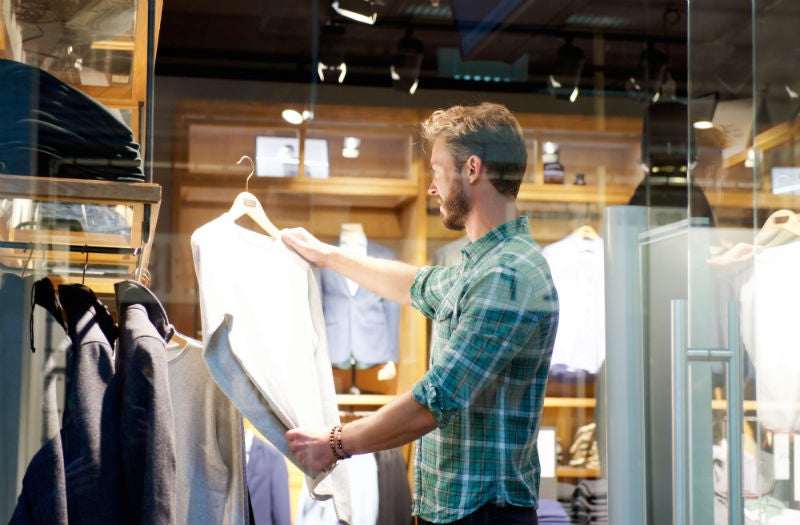 For Warehouse's new menswear range to succeed, it must incorporate more unique product designs, and focus on building awareness through digital marketing and influencer partnerships. Without these features, it will fail to drive desirability and appeal among males, and risk the same fate as other womenswear retailers, such as New Look and Whistles, which have previously failed to capture loyal male spend.
Warehouse launched its first ever menswear range online in early March, which consists of 75 options, and taps into the 25-40 age group. The collection has a laid-back, modern aesthetic, emulating the likes of Zara, Cos and Arket, however, apart from a small selection of statement patterned shirts and shorts, it lacks distinction from other menswear players' ranges and will struggle to capture shoppers' attention. Without a clear point of difference in design, and given its upper midmarket positioning, it will also find it difficult to persuade shoppers to trade up from more affordable ranges at Zara and H&M. Therefore, it must incorporate more unique silhouettes, fabrics and prints, to increase interest and justify its higher price points.
The collection focuses on sustainability, with each product containing at least 50% sustainable materials, including recycled polyester and organic cotton. Reusable accessories, like bags and coffee cups, are displayed alongside the range, helping it to promote a more eco-conscious lifestyle. Better communication is needed to fully engage with environmentally conscious consumers, as though shoppers are informed of the range's sustainable credentials clearly on individual product pages online, there is little mention on the website's homepage or social media. Working towards a fully sustainable range should be top of Warehouse's agenda, alongside increasing transparency surrounding its supply chain, by providing more information on the sourcing and production of its products, to give consumers greater confidence in its ethical standards.
To help overcome its main challenge of building awareness and encouraging purchases among male shoppers, Warehouse must effectively showcase its collection via social media to gain visibility. It launched a dedicated menswear Instagram page in January, with new images added daily since its launch to highlight its offer, but Warehouse must ensure that images on this platform feature more unique and striking items to display its fashionability. It should invest in partnerships with celebrities or influencers, like Joel Dommett and Jim Chapman, to boost engagement, and should work with these personalities to create curated edits on its website, to inspire shoppers and motivate full outfit purchases. It could also raise credibility by collaborating with other fashion brands and designers, like it did with Shrimps for a womenswear range in April 2019.
As Warehouse's menswear collection is initially only available online, the retailer must maximise its menswear potential and boost basket sizes by displaying complementary items together and providing outfit recommendations. The range is stocked on several third-party sites, including The Idle Man, johnlewis.com, Next and Zalando, which will aid brand discovery and increase visibility among male shoppers who may not have heard of Warehouse before and therefore may not instinctively associate it with womenswear. Warehouse should also introduce its menswear range onto ASOS, which already stocks a large proportion of its womenswear, as this platform will help to boost the range's fashionability.
While Warehouse's opportunity to incorporate menswear into its own physical proposition is limited, as its standalone locations are generally quite small, it should seek a concession partnership with John Lewis, as this will enable it to benefit from the department store's existing footfall and customer base. Though Warehouse has hosted a pop-up in Shoreditch during launch week to showcase the new range, it should consider launching more of these in the future, so that it continues to raise awareness, seeking locations in more central London areas, as well as other major cities, to better attract shoppers' attention and gain greater traction.