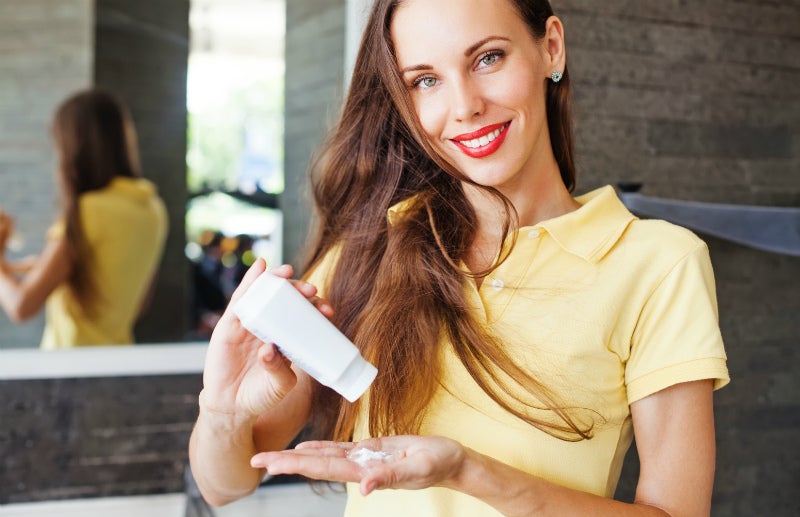 Water-free shampoos are becoming more mainstream in the beauty industry, as consumers call for companies to be aware of their water usage. Brands such as OWA and Waterless provide sustainable options for the more environmentally-conscious consumers, who wish to lower their water footprint.
Typically, shampoos have been bottled as gels or creams – coming in a spectrum of scents and often tailored for specific hair types. Whether they're ordered online or bought in a shop, a bottle of shampoo will normally be made up of around 70 – 80% water, which acts as a solvent in order to hold together the various ingredients that allow the shampoo to cleanse.
OWA was the first to innovate a water-free shampoo; their Moondust Hair Wash is a dry powder shampoo that is activated by the addition of water. It also alleges to be vegan, free of synthetic scents and to be 'better for the planet'. The absence of water in their products means that OWA can package smaller, but more concentrated, amounts of hair wash; indeed, they claim that a bottle of their Moondust Hair Wash contains up to eight times more cleaning product than a typical bottle of liquid shampoo. The smaller bottle is also much lighter by virtue of containing no water, and is, therefore, easier to transport, thereby lowering its carbon footprint. Plastic use is also minimised, and since the powder only needs a relatively small amount of water to activate, overall water use is lowered too; all this, and the product is also claimed to be of 'salon-grade', promising the same level of care and luxury as other conventional hair products.
While OWA's Moondust may have been the first, it is certainly not the only hair product following a 'greener' path. Proctor and Gamble recently launched their Waterless Dry Shampoo range, which also aims to reduce water usage; originally launched in Cape Town during a water crisis, the products claim to be able to cleanse 'without a drop of water'. Although functionally different from a cleansing shampoo, dry shampoos have become popular with consumers who are time-pressed, or who wish to forgo using a shower in order to reduce water consumption.
Both water-free dry shampoos and powdered shampoos aim to target consumers who are concerned about their water usage. Water scarcity is becoming one of the most talked-about global issues, and conscious efforts from brands to address this issue are certain to appeal to consumers who value ethically responsible companies. This trend is certain to continue to shape product innovation within the industry, and brands will need to consider their water usage if they are to appeal to sustainable consumers.