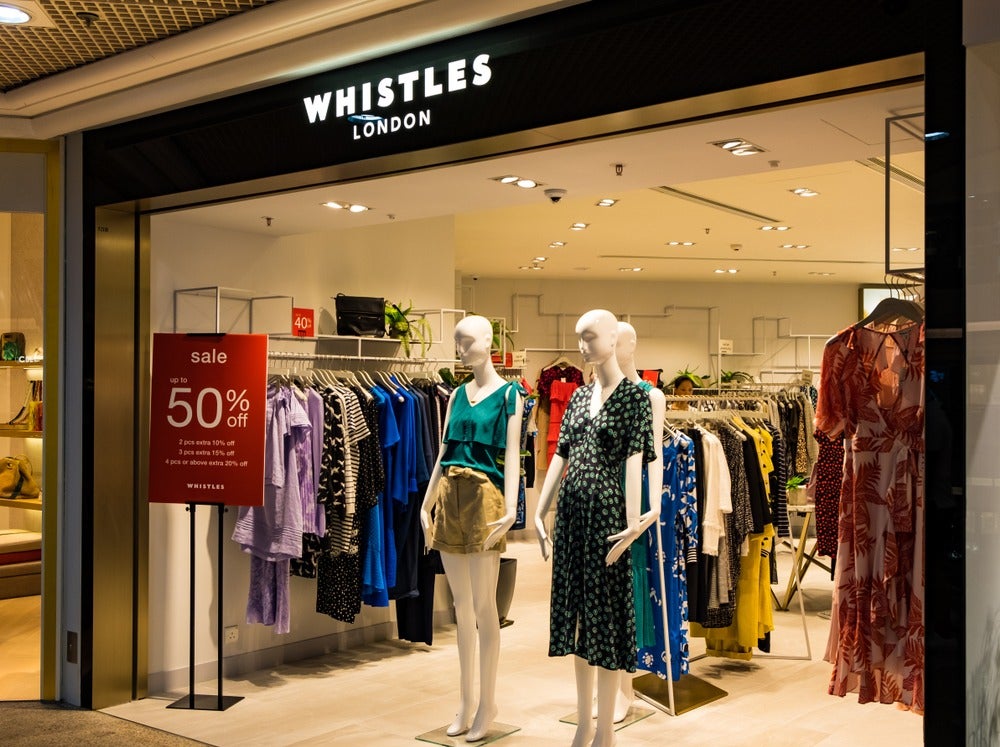 A compelling offer is vital in the retail space and Whistles' axing of its menswear range has highlighted its inability to build unisex appeal and encourage shoppers to switch from rivals.
The high-street retail store's move into menswear for autumn/winter 2014 enabled the British retailer to exploit growth opportunities in the market owing to males' greater interest in fashion trends and style encouraging more regular purchasing.
Whistles drop menswear
Indeed menswear has been the fastest growing category in the UK clothing market over the past five years, with spending rising by 10.7% between 2013 and 2018, equating to an additional £1.1 billion up for grabs.
It wasn't the only retailer to seize on this opportunity with the likes of boohoo.com and New Look also making a concerted effort to get male shoppers on board – though New Look subsequently axed many of its standalone menswear stores as part of its company voluntary arrangement (CVA).
Whistles' autumn/winter 2018 range has been confirmed as the end of its foray into menswear, with over 250 lines now heavily discounted. With menswear only available online and in a handful of branches, the range suffered from a lack of awareness, with the retailer not actively marketing the collection sufficiently, minimising its potential impact and appeal.
Why the missed opportunity?
A missed opportunity lies in online third-party distribution via the likes of Next and ASOS, which would have enabled Whistles to cast the net wider in search of menswear customers. Not only did it fail to attract sufficient new male shoppers to the brand, but there was little appetite among existing shoppers to buy for partners.
Not being able to secure a loyal customer base for its menswear offer despite a wearable and design-led range is disappointing but not unsurprising given the brand's strong female identity, the existing competition in the premium menswear market and male premium shoppers' greater affinity with branded clothing.
Strong contenders in the menswear space
While Whistles could exploit the gap left by the likes of Banana Republic, it had to compete with established players such as Ted Baker, Reiss and Cos – with the challenge to become top of mind too great.
Notably, both Ted Baker and Reiss started out in menswear and later expanded into womenswear, showing that it is possible to build appeal and relevance among both genders.
While other capsule ranges, such as its bridalwear and limited edition collections, remain, the decision to axe menswear allows for greater focus on its core womenswear offer, which is building momentum following its acquisition by TFG Brands (London) in 2016.
In the year to March 2018, total sales rose 16.1% on a comparable basis, with the retailer also returning to an operating profit. Focusing on driving differentiation in its proposition will help secure destination appeal and brand longevity for the now womenswear only retailer.