The retail industry continues to be a hotbed of innovation, with activity driven by convenience and technology, and growing importance of technologies such as automation, artificial intelligence, and gesture-based user interface. In the last three years alone, there have been over 133,000 patents filed and granted in the retail industry, according to GlobalData's report on Cloud in Retail: Gesture-based user interfaces.
However, not all innovations are equal and nor do they follow a constant upward trend. Instead, their evolution takes the form of an S-shaped curve that reflects their typical lifecycle from early emergence to accelerating adoption, before finally stabilising and reaching maturity.
Identifying where a particular innovation is on this journey, especially those that are in the emerging and accelerating stages, is essential for understanding their current level of adoption and the likely future trajectory and impact they will have.
70+ innovations will shape the retail industry
According to GlobalData's Technology Foresights, which plots the S-curve for the retail industry using innovation intensity models built on over 128,000 patents, there are 70+ innovation areas that will shape the future of the industry.
Biometric authentication, gesture-based user interfaces, and shipping management systems are some of the accelerating innovation areas, where adoption has been steadily increasing. Among maturing innovation areas are user biometric authentication and instant messaging social networks, which are now well established in the industry.
Innovation S-curve for cloud in the retail industry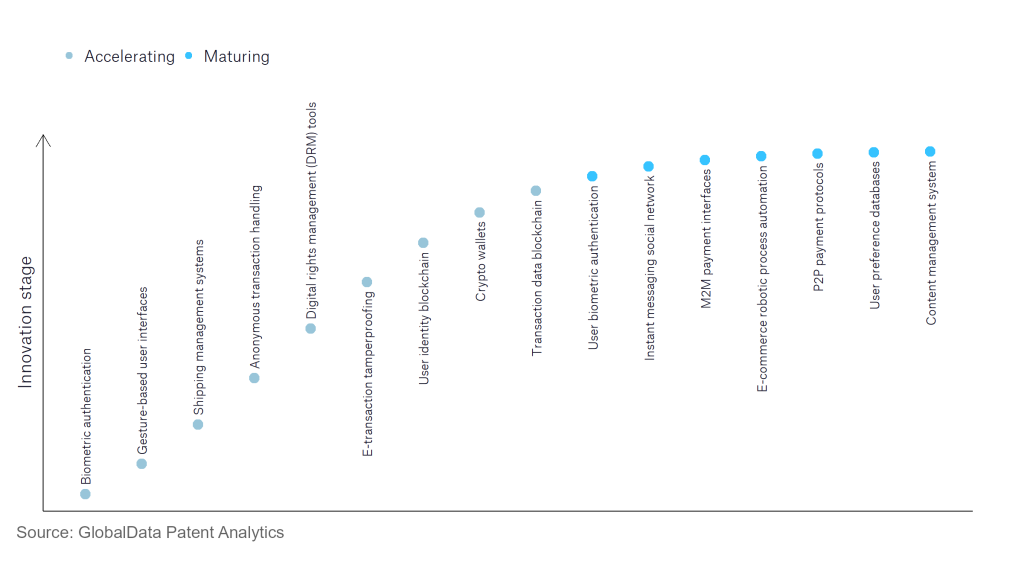 Gesture based user interfaces are a key innovation area in cloud
A gesture-based user interface can be defined as a system that takes gestures as input. According to the user's commands, the system communicates using a mathematical algorithm. These gesture-based user interfaces find applications in marketing communication and, hence, are important for the retail industry.
GlobalData's analysis also uncovers the companies at the forefront of each innovation area and assesses the potential reach and impact of their patenting activity across different applications and geographies. According to GlobalData, there are 50+ companies, spanning technology vendors, established retail companies, and up-and-coming start-ups engaged in the development and application of gesture-based user interfaces.
Key players in gesture-based user interfaces – a disruptive innovation in the retail industry
'Application diversity' measures the number of different applications identified for each relevant patent and broadly splits companies into either 'niche' or 'diversified' innovators.
'Geographic reach' refers to the number of different countries each relevant patent is registered in and reflects the breadth of geographic application intended, ranging from 'global' to 'local'.
Patent volumes related to gesture-based user interfaces
Source: GlobalData Patent Analytics
In terms of patents filed, SoftBank Group, Cox Enterprises, Nant, Nuro, Walmart, and Magic Leap are the leading players in the cloud-based gesture-based user interfaces space. In September 2022, Magic Leap announced the commercial availability of Magic Leap 2, its next-generation enterprise augmented reality platform. When users enable hand tracking, the Magic Leap 2 device employs a world-sensing camera in order to identify and then forecast the locations of the users' hands' key points in three dimensions. The gesture-based input is enabled by hand tracking, allowing users to manipulate content with hands, such as launching an app without using the controller.
In terms of application diversity, Nuro, Walmart, Memjet Technology, and Beijing Electronics are the leading players in the cloud-based gesture-based user interfaces space.
In terms of geographic reach, Commonwealth Scientific and Industrial Research Organisation, Amadeus IT Group, ZBD Displays, and Pricer are the leading players in the space.
Gesture-based user interface has a huge potential for user growth in the coming years. With consumers giving more importance to hygiene than before, they are growing wary of public touchscreens. As a result, there will be a huge demand for touchless screens in the future.
To further understand the key themes and technologies disrupting the retail industry, access GlobalData's latest thematic research report on Cloud Computing in Retail.