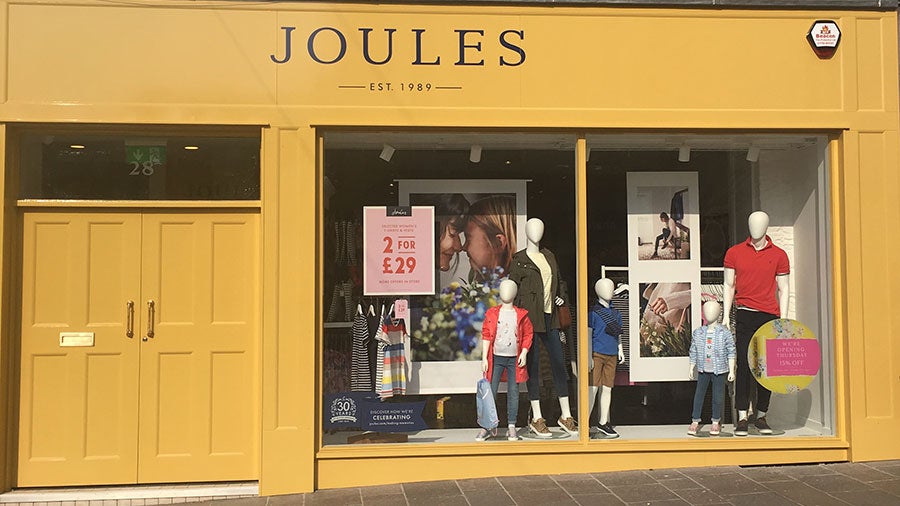 UK-based clothing and homeware company Joules has said that it anticipates between £2m and £3m in losses before tax for the year to 31 May.
In the group's business update and pre-close trading statement released today, Joules declared that sales were at £191m for the three months of the lockdown, down 12% compared with the previous year.
In the statement, the group discussed the impact of Covid-19 on the business, its success in e-commerce sales, which were up 5% from last year, and plans for post-lockdown.
In response to Covid-19, Joules said that it has "been focused on managing both the immediate and longer-term impact of Covid-19 on the business", with a priority on the safety of colleagues and customers.
Joules said: "The Covid-19 pandemic has highlighted the responsibilities the group has to positively contribute to communities where it operates."
To reduce costs and conserve cash, the group said that it has taken "a significant number of actions" which involve the cooperation of key stakeholders such as stock suppliers, landlords, and employees.
E-commerce demand at a high
Joules stores were closed under the UK Government's guidance to close non-essential stores amid the Covid-19 coronavirus lockdown. During this period, the group's e-commerce channel has been operating but with constrained warehouse capacity.
Joules said that e-commerce demand was "significantly ahead of expectations" during the lockdown period and was more than 40% higher than last year.
Joules chief executive officer Nick Jones said: "Whilst this continues to be an exceptionally challenging period for people, communities and businesses, I am delighted with how Joules has responded over recent months. We were quick to adapt to the initial disruption of the Covid-19 pandemic by bolstering our liquidity position, preserving cash and focusing our trading online.
"We are very encouraged with the significant 40% growth in e-commerce demand during the lockdown period, which is particularly pleasing given the already established scale of our e-commerce operations.:
Moving forward
On 15 June, Joules re-opened 12 stores across the UK, keeping in line with social distancing rules, and has plans to "cautiously" reopen remaining stores on a phased basis over the coming weeks.
Joules said: "Whilst it is too early to accurately forecast how quickly and to what extent store footfall and sales will recover, the Board believes that the Group's flexible and agile 'total retail' model puts Joules in a strong position to adapt to the way customers choose to interact with the brand going forward.
"Across the Group's portfolio of 128 stores, a large proportion are in 'lifestyle locations' and over a third of the store portfolio has a lease event within the next 18 months."
The company continued: "As we move out of lockdown and into a 'new normal' for retail, I am confident that Joules is exceptionally well-positioned to continue to react to changing consumer behaviours and that our brand – which brightens our customers' lives – is more relevant than ever to consumers.
"Whilst we will continue to face very challenging trading conditions over the coming months, the Joules customer base continues to grow, and I believe the brand is stronger than ever. We are now looking forward to the re-opening of our stores as well as those of our wholesale partners.
"I would like to take this opportunity to again thank our amazing colleagues for their resilience and hard work, our loyal customers for their support, and our valued business partners for their flexibility and collaboration throughout this uniquely challenging time for us all."
The group said that it is working with product suppliers to reduce Autumn/Winter 2020 inventory commitments and to add flexibility to the Spring/Summer 2021 inventory commitments. These actions mean that the business will be able to adjust the value of its stocks in the future.