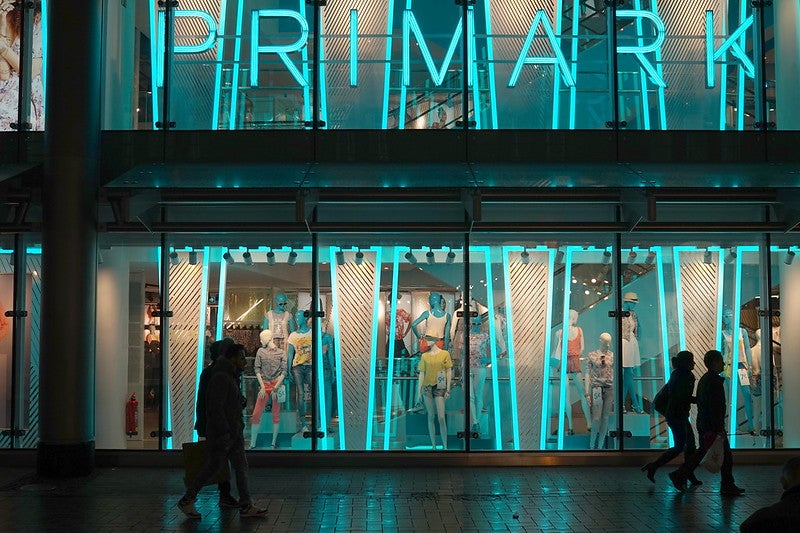 UK fashion retailer Primark has said that it will not take the £30m Job Retention Bonus introduced last week by UK Chancellor Rishi Sunak. John Lewis is also expected to reject the governmental handout.
The handout gives employers a £1,000 bonus for every furloughed worker brought back to work once the job retention scheme ends in October. All businesses that pay staff a minimum of £520 a month with intentions to keep them employed until the end of January qualify for this bonus.
Roughly nine million employees were placed on furlough amid the Covid-19 coronavirus lockdown. If all companies were to take back these employees, it would cost the government £9bn.
When the lockdown to prevent the spread of Covid-19 caused non-essential retail to close in April, Primark furloughed 68,000 employees across Europe. The retailer has now brought all staff back after it reopened stores on 15 June.
A spokesperson for Primark's parent company Associated British Foods (ABF) said: "I can confirm that Primark does not intend to take advantage of support under the Job Retention Bonus announced by the Chancellor this week.
"The company removed its employees from government employment support schemes in the UK and Europe in line with the reopening of the majority of its stores.
"The company believes it should not be necessary therefore to apply for payment under the Bonus scheme on current circumstances."
Why did Primark reject the bonus?
Primark reopened UK stores mid-June, as non-essential retail lockdown lifted, and expects to turn a profit. Without the government furlough scheme, the retailer said that it would have been forced to make 68,000 employees across Europe redundant.
At the start of July, ABF said that Primark's sales for the past quarter fell 75% to £582m as a result of the pandemic and that total sales had fallen 39% to £2.6bn for the quarter to 20 June. However, Primark had also seen strong sales in children's clothes and leisurewear, with high customer demand for summer clothing.
In a statement, the retailer said: "Most of our regional stores are performing well, especially in retail parks. Our stores in the centre of big cities are suffering from the current absence of tourism and much lower commuter footfall."
The Job Retention Bonus "should have been targeted in the areas that most need it."
Labour leader Keir Starmer has said that the Job Retention Bonus did not target the companies that were most in need. He said: "Our concern is the action they've taken isn't focused on the right places, so the Jobs Retention Bonus is a bonus for all jobs and many of those jobs, many of the people would have been brought back in any event. Some are really at risk of losing their jobs, so we say it should have been targeted in the areas that most need it."
Finance director services provider Defigo Finance owner and director Colin Arnold agrees, telling Retail Insight Network that the bonus should have been offered to struggling sectors, like hospitality and arts, rather than swept broadly across all industries.
Arnold said: "For some sectors, there was no major impact with regard to jobs – i.e. companies did not have to furlough staff as they were able to continue working, albeit with having to make adjustments to working conditions. This covers off sectors such as food retail, companies that manufacture healthcare equipment, food producers, etc.
"For other sectors, such as general retailing, this has now obviously opened back up again. There is a major impact on this area, however, with vastly-reduced footfall for physical shopping and more people shopping online. The likelihood is that this will continue to see increased numbers of people going shopping as confidence increases amongst the general public.
The issue here is the time before the public's confidence does increase and this will probably vary depending on local conditions."
Arnold added that the industries struggling the most are the hospitality and arts sectors. He noted that 8% of the UK workforce is employed in hospitality, accommodation, and attraction sectors, are more likely to be young, women, or from a minority ethnic background, and are statistically more likely to remain unemployed for longer if they lose their jobs.
He said: "A significant number of the companies within [the arts] sector have basically seen a complete collapse in their income. Unlike retailing, which is seeing a gradual recovery for a significant number of companies, they are seeing a cancellation of events until 2021. Offering a bonus of £1,000 to keep staff employed is not a significant-enough incentive when companies may have had to pay 100% of their costs for the months of November, December & January; plus a proportion of their costs since August."
"For the smaller independents, it is also a very difficult situation. For a large number of them, they do not have the cash reserves of the larger chains or ready access to debt funding that the larger chains have. Allied to this, a lot of small independents are in older premises which are harder to make work in a situation where you have to reduce the number of customers that can be safely allowed in."
Other retailers following suit
John Lewis is also expected to reject Job Retention Bonus as it has previously announced it will not be reopening eight stores across England. John Lewis furloughed 14,000 shop workers as lockdown came into effect.
Bookmaker William Hill has also indicated it will reject the bonus.