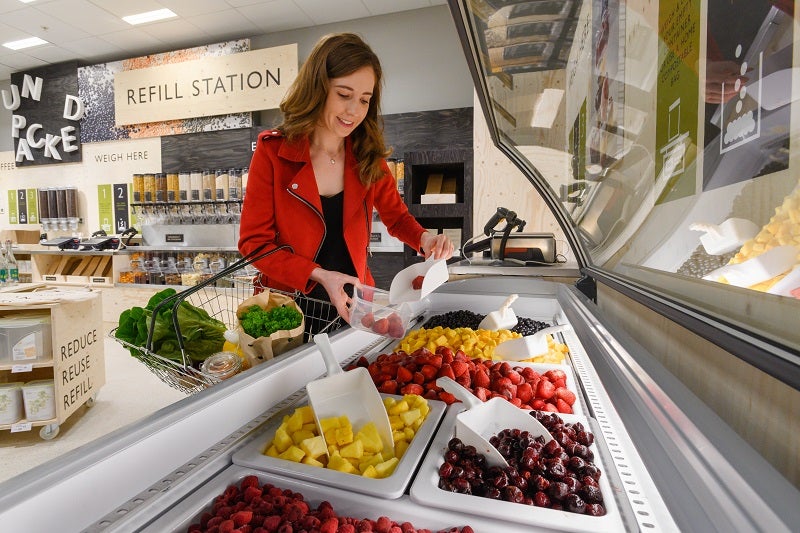 UK supermarket chain Waitrose & Partners is set to extend its new Waitrose Unpacked retail concept to three newly rebranded stores.
The company will introduce the trial at Cheltenham store in Gloucestershire in September, and Abingdon and Wallingford stores in Oxfordshire in November.
The retailer introduced the packaging-free retail concept this year at the Waitrose Botley Road store in Oxford to save thousands of tonnes of packaging and plastic. It also announced that it will run the trial for 11 weeks until 18 August.
However, the retailer is now planning to extend this beyond the original end date following a positive response from customers.
Waitrose & Partners CSR head Tor Harris said: "The reaction to Waitrose Unpacked has been incredible with the invaluable feedback from thousands of customers giving us the confidence that they are prepared to change how they shop with us.
"We are keen to take the Unpacked concept forward and these additional tests will help us achieve this as well as understand its commercial viability.
"Through working with our customers and suppliers we will continue to learn and develop ideas which have the potential to be rolled out more widely."
In addition, the supermarket chain will add a dedicated refillable zone featuring dispensers for dried products, frozen 'pick and mix', coffee, wine and beer refills, and Ecover detergent and washing up liquid refillables at the three stores.
Based on customer feedback, Waitrose & Partners will also extend the refillable range of products available at the three stores.
Waitrose aims to make all of its own-brand packaging either widely recycled, reusable or home-compostable by 2023.