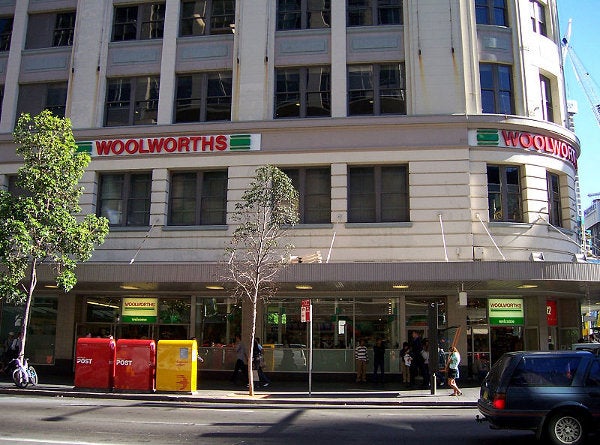 Woolworths, an Australia-based supermarket chain, has reported a 3.8% growth in total group sales to A$14.07bn ($14.54bn) in the fiscal third quarter (Q3), compared to A$13.56bn ($14.01bn) in the same period last year.
Sales from continuing operations increased 3.9% to A$13.71bn ($14.17bn) in the 13-week period ended 1 April 2012, compared to A$13.20bn ($13.64bn) in the previous year's period.
Australian Food and Liquor sales for the third quarter were A$9.4bn ($9.71bn), an increase of A$0.3bn or 2.9% on the previous year.
Comparable store sales in Australian Food and Liquor were flat in the 13-week period, despite the growth in customer numbers and units sold.
New Zealand supermarkets sales advanced 2.9% to NZ$1.4bn ($172.07m) in the third quarter of 2012, while comparable sales grew 2.9% in the same quarter.
The company's discount retail unit BIG W sales for the fiscal third quarter were A$931m ($962.46m), an increase of 1.4% on the previous year, while comparable sales were down by 0.9% in the quarter.
Home Improvement unit sales surged 29.4% to A$211m ($218.13m), which includes sales from the first ten Masters stores, three of which opened during the third quarter.
Woolworths chief executive officer Grant O'Brien said the growth has been achieved in a continuing tight consumer market.
"However we were pleased with continued growth in customer numbers, market share and units sold and the growing momentum of key initiatives," O'Brien said.
During the quarter, the company opened six Australian Supermarkets and two Dan Murphy's, bringing the total to 867 and 156, respectively.
In addition, Woolworths opened two Countdown Supermarkets and unveiled two new BIG W stores during the quarter, bringing total stores to 160 and 171, respectively.
The firm said its business venture with Tata in India generated sales of A$74m ($76.21m) during the quarter and now services 73 stores which operate under the Croma brand.
In the fourth quarter of fiscal 2012, Woolworths plans to open eight Australian Supermarkets, seven Dan Murphy's and one BIG W store.
Image: In addition, Woolworths opened two Countdown Supermarkets and unveiled two new BIG W stores during the quarter, bringing total stores to 160 and 171, respectively. Photo: Enoch Lau