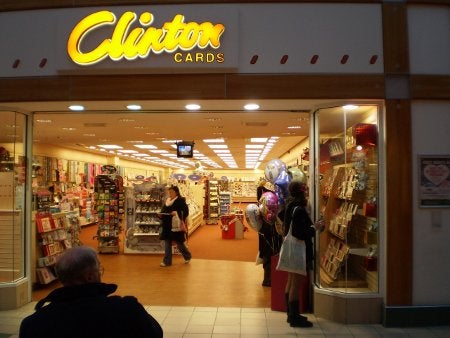 UK-based specialist card retailer Clinton Cards has been put into administration by its largest supplier, making it the latest casualty on the high street and putting more than 8,000 jobs at risk.
The group, which operates 628 Clintons and 139 Birthdays stores in the UK, has collapsed into administration after failing to find a buyer for all or parts of the business.
Zolfo Cooper's restructuring specialists have been appointed administrator to the group and its subsidiaries.
The move came after Clinton Cards' banks, Barclays and Royal Bank of Scotland, sold the firm's £35m of loans to the US card retailer American Greeting, the biggest supplier to Clinton Cards.
The company was unable to repay the £35m loan and had to accept American Greetings' proposal to place the company and its subsidiaries into administration.
Zolfo Cooper partner and joint administrator Peter Saville was quoted by Telegraph as saying that the first priority is to stabilise the business and assess its financial position.
"We will continue to trade the business whilst we undertake a full marketing exercise to find buyers for all or parts of the group so that the best possible outcome can be achieved for stakeholders," Saville said.
"Despite evaluating ways to restructure its business, Clintons was unfortunately unable to secure adequate support or funding for its restructuring plans.
"The challenging business environment, and in particular the increased competition for greetings cards and related products, meant that the group required radical restructuring and administration was the last remaining option available."
Saville said the retailer has faced challenging trading conditions, particularly in its Birthdays subsidiary, which has made losses of more than £130m since its acquisition in 2004.
Saville noted that a number of stores would need to be shut down to make the business financially viable.
Clinton Cards, a retailer of greetings cards and related products, employs more than 8,000 full-time and part-time staff.
The company has made a pre-tax loss of £3.7m in the 26 weeks to the end of January, compared with a profit of £11.7m in the previous year.
Clinton's collapse is the latest in recent high-profile casualties, including video games retailer Game Group, fashion chain Peacocks and outdoor specialist Blacks Leisure.
Image: Clinton Cards was unable to repay the £35m loan and had to accept its biggest supplier American Greetings' proposal to place the firm and its subsidiaries into administration. Photo: Pablotorrado