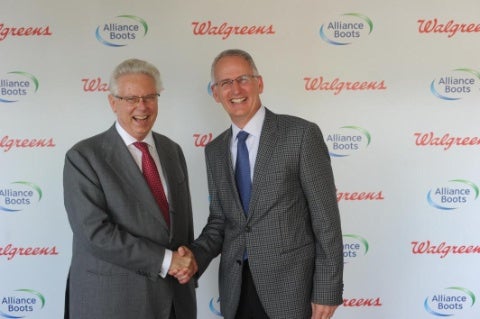 US-based drugstore chain Walgreens has agreed to buy a 45% stake in Alliance Boots, a pharmacy-led health and beauty group, for $6.7bn in an attempt to create a global chain of pharmacies.
Walgreens will pay $4bn cash and the rest in stock for its biggest-ever deal, with an option to gain full control of Alliance Boots in about three years.
At the current Walgreens share price and exchange rate, the second step of the transaction would be valued at about $9.5bn in cash and stock, as well as the assumption of Alliance Boots then-outstanding debt.
Completion of the initial investment, which is subject to various regulatory approvals, including clearance by antitrust authorities in the US and Germany, is likely to take place by 1 September 2012.
Walgreens president and chief executive officer Gregory Wasson said this announcement represents an exciting opportunity to accelerate the firm's five core strategies and advance that mission – in the US and now internationally.
"We are bringing together the strengths and expertise of each company to create a worldwide healthcare platform for the future that can provide innovative ways to address global health and wellness challenges, Wasson added.
Alliance Boots executive chairman Stefano Pessina said that Walgreens' consumer profile in the US is similar to Boots in the UK in many ways.
"Our pharmaceutical wholesale businesses will provide their logistics know-how to Walgreens and are well placed to be one of the growth engines of the new enterprise," Pessina added.
As a result of this transaction, job reductions at any of the two firms are not announced; and Walgreens will maintain its existing headquarters in Deerfield, Illinois.
The pharmacy-led retail and wholesale businesses of both firms will continue to operate under their own brand names.
Together, Walgreens and Alliance Boots will have over 11,000 stores in 12 countries, and more than 370 distribution centres.
Image: Alliance Boots executive chairman Stefano Pessina (left) and Walgreens president and CEO Greg Wasson. Photo: Business Wire