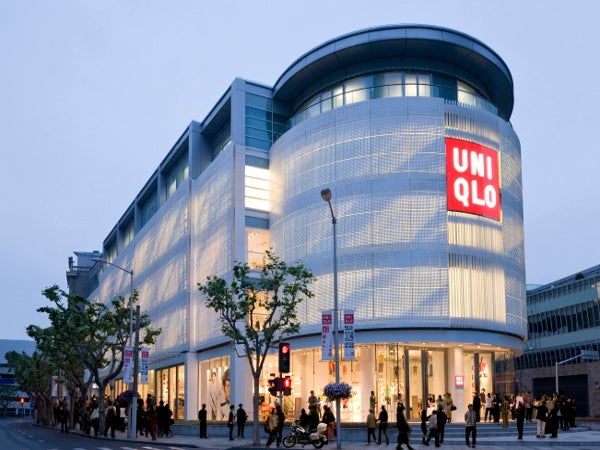 Japanese apparel retailer Fast Retailing has posted a 14.9% increase in consolidated net sales to JPY525.5bn ($6.48bn) in the fiscal first half (H1), compared to 457.3bn ($5.64bn) in the same period a year earlier.
The group's operating income was up 11.8% to JPY91.7bn ($1.13bn) in the H1, compared to JPY82bn ($1.01bn) in the corresponding period a year ago.
Net income of the company totalled JPY57.7bn ($711.72m) in the September-February period, up 11% from the comparable period last year.
Selling, general and administrative (SG&A) expenses of the group grew 33.6% to JPY176.7bn ($2.17bn) in the six months ending February 2012, compared to 156.3bn ($1.92bn) in the year ago period.
The Uniqlo Japan operation, which accounts for 69.4% of consolidated sales, recorded a 6.6% gain in sales to JPY364.5bn ($4.49bn) in the first half, compared to JPY342.1bn ($4.21bn) in the year earlier period.
Uniqlo Japan's H1 operating income jumped 2.7% to JPY72.2bn ($890.58m), compared to JPY70.3bn ($867.15m) in the same period last year.
The total number of Uniqlo Japan stores including franchise stores expanded to 849 by the end of February 2012.
Uniqlo International store numbers increased especially strongly in China, Hong Kong, Taiwan and South Korea, while same-store sales continued to show growth.
Net sales from Uniqlo International operation totalled JPY84.8bn ($1.04bn) in the six months ended February, down 68.8% from JPY502bn ($6.19bn) in the year ago period.
During the first half, 55 stores were opened redominately in these Asian nations and two stores were closed, bringing the total count of Uniqlo International stores to 234.
In the Global Brands segment, the firm achieved growth in both sales and income in the first half with sales expanding 17.4% year-on-year to JPY74.8bn ($922.65m).
Operating income surged 53% to JPY7.9bn ($97.44m) in the September-February period, while same-store sales for the theory label continued to expand in both Japan and the US.
Meanwhile, same-store sales growth for the g.u. brand topped 20%, while profits from the firm's French-based Comptoir des Cotonniers and PRINCESSE tam.tam lines dipped.
Image: Uniqlo International store numbers increased especially strongly in China, Hong Kong, Taiwan and South Korea, while same-store sales continued to show growth. Photo: Fast Retailing Co Ltd