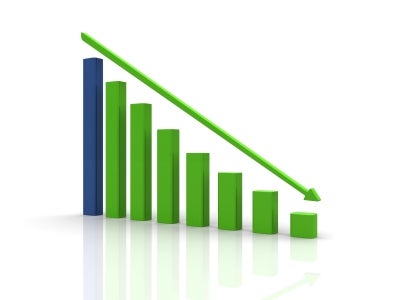 Sears Holdings has reported net loss of $132m from continuing operations attributable to the company for the second quarter of 2012, which was slightly less than the $146m loss incurred by the company in the corresponding quarter in 2011.
The company has also reported $88m decline in operating loss for the quarter to $103m, when compared to $191m operating loss in the same quarter last year.
Reduction in selling and administrative expenses and an improvement in gross margin rate, which was partially offset by a decline in gross margin dollars driven by lower overall sales have contributed to the improvement in operating loss.
The company's revenues were declined by 6.6%% to $9.5bn for the quarter ended 28 July 2012, when compared to $10.17bn in the same quarter previous year.
Lower domestic comparable store sales for the quarter and the effect of having fewer Kmart and Sears Full-line stores in operation primarily contributed to the decline in revenue in the second quarter.
A decline of $55m in Sears Canada's comparable store sales was seen due to changes in foreign currency exchange rates, while Domestic comparable store sales also declined 3.7%, which comprised of declines of 2.9% at Sears Domestic and 4.7% at Kmart.
The decline is due to decrease in consumers sales affected by price compression, decline in lawn and garden due to drought conditions, lower clearance sales activity primarily in the apparel categories, and decrease in pharmacy sales to a conversion of brand name drugs to equivalent generic drugs.
Sears Holdings chief executive officer and president Lou D'Ambrosio said the company has improved its profit position, as it reduced expenses and expanded margin rate through more effective promotional design.
"We have also successfully lowered inventory, reduced debt from year end, and enhanced our liquidity. In addition, the Sears Hometown transaction remains on track to close in the third quarter," D'Ambrosio added.
"While we drive operational discipline, we are also investing in our customer experience, particularly through our ShopYourWay membership program and Integrated Retail."
Sears Holdings posted adjusted EBITDA of $153m in the quarter, up 163.8% from the $58m adjusted EBITDA in the corresponding quarter in 2011.
For the latest quarter, Domestic EBITDA increased $114m as compared with $30m in 2011, while Sears Canada's EBITDA declined by $19m in 2012 from $28m in 2011.
Sears Holdings chief financial officer Rob Schriesheim said the company continued to improve its EBITDA performance and strengthen its liquidity position during the second quarter.
"For the first half, our domestic adjusted EBITDA has increased $250 million over the prior year. We have outperformed our previously announced cost reduction targets by reducing domestic expenses by over $300 million, some of which flow through cost of goods sold," Schriesheim added.
The company is progressing towards closing the Sears Hometown and Outlet Store transaction, which is expected to raise $446.5m in gross proceeds, and the partial spin-off of its interest in Sears Canada to the shareholders.
"We expect to close the Sears Hometown and Outlet Store transaction in the third quarter of 2012 and complete the Sears Canada partial spin-off in the second half of 2012," Schriesheim said.
---
Image: Lower domestic comparable store sales, and the effect of having fewer Kmart and Sears Full-line stores in operation contributed to the decline in revenues. Photo: FreeDigitalPhotos.net