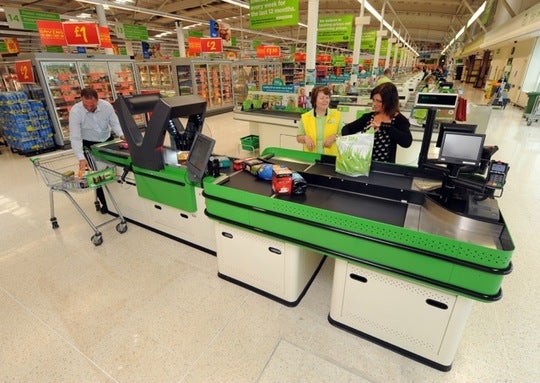 British supermarket chain Asda has introduced a new scanning technology, Rapid Scan Till, at its York Superstore in North Yorkshire, England.
The latest technical offering of the retailer is developed by German engineering firm Wincor Nixdorf.
The Rapid Scan Till marks a new milestone in self-scan check-outs that is expected to speed up the shopping process for the customers.
Asda claims that the new scan machine can increase the shopping process by three-folds, scanning nearly 100 items in a minute.
Rapid Scan Till features two bagging areas that will enable second customer to load their products to get them scanned, while the first customer bags their shopping.
The customers are required to place their shopped merchandise on the conveyor belt that will pass them through the 360° laser scanner.
Asda is also providing a trained employee to assist the shoppers with the new machine.
Commenting on the innovative launch, Asda retail director Mark Ibbotson said that the new introduction is in line with shoppers' request to save their time.
"We're always looking at ways we can improve their shopping experience – and Rapid Scan is a technological triumph in that area," added Ibbotson.
"We're the first to bring this amazing machine to our shoppers before anyone else, so we are really excited to hear what everyone thinks of it."
The supermarket chain intends to introduce the Rapid Scan Till at other outlets after evaluating reaction from customers and staff during the trial period at York Superstore.
______________________________________________________________________________________________________
Image: The Rapid Scan Till can increase the speed of scanning your shopping by up to 300%. Photo courtesy of Asda Stores Limited.