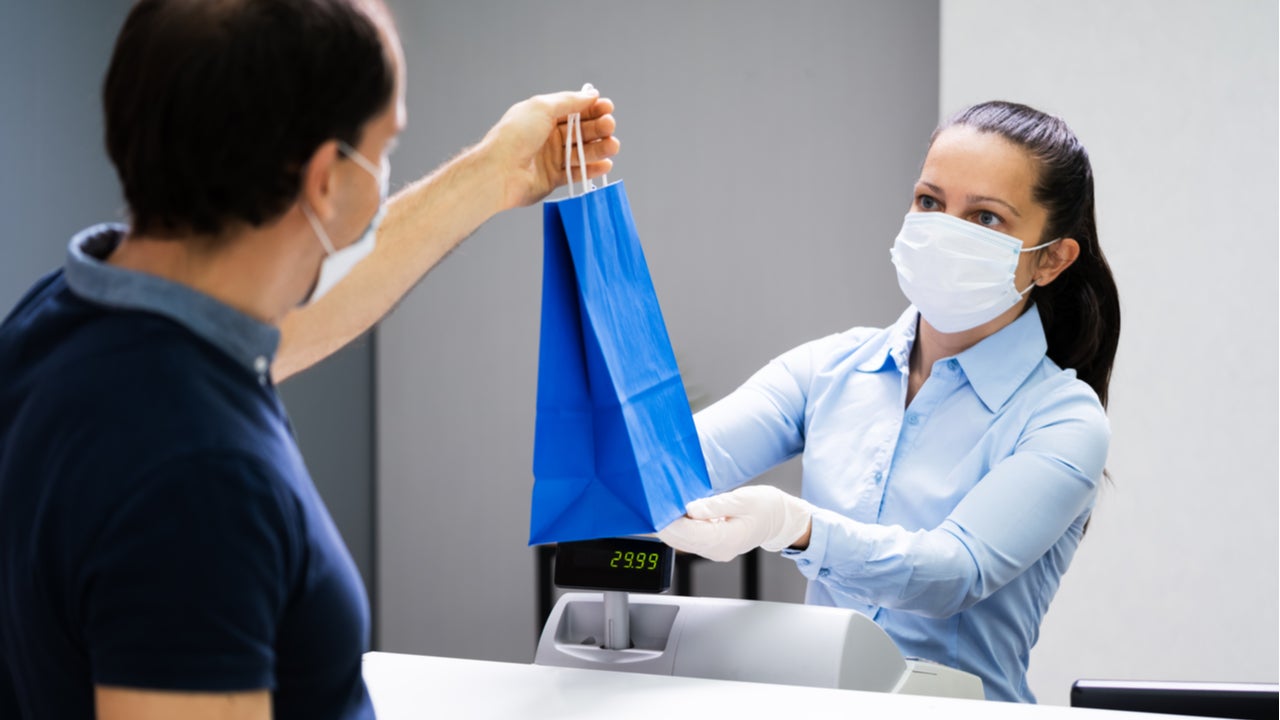 The top tweeted terms are the trending industry discussions happening on Twitter by key individuals (influencers) as tracked by the platform.
1. Covid-19 – 1,800 mentions
Scotland's post-lockdown roadmap for the retail sector, the US government engaging retail pharmacies to administer Covid-19 vaccine and Walgreens' plans to sell Covid-19 tests were some popular topics discussed in Q1. According to an article shared by Drapers, a fashion retail magazine, the government of Scotland announced its plan to reopen its economy including the non-essential services such as retail stores, gyms and salons after the end of the ongoing coronavirus lockdown in April. The government planned to lift the restrictions in the first week of April in a phased manner, the article highlighted.
Further, Jon Hurst, president of Retailers Association of Massachusetts, shared an article about the US Federal government engaging retail pharmacies to accelerate the administration of Covid-19 vaccine across the country. The government is supplying Covid-19 vaccines to retail chains and pharmacies such as CVS, Kroger and Walgreens and directing them to conduct the vaccination programme. Walmart, the largest US retailer, is leading the vaccination drive by providing access to vaccines in smaller towns. The government aims to provide one million doses to pharmacies in the initial phase, the article noted.
Covid-19 also trended in discussions shared by Amber Deese Owens, vice president of HR at AdventHealth, a non-profit health care system, about Walgreens selling Covid-19 PCR tests over the counter at its stores. The pharmacy giant will sell PCR tests developed by LabCorp at 6,000 of its stores across the country. Customers aged 18 years or older are eligible to buy the test over the counter without any prescription. The test kit comprises a short nasal swab and the sample can be returned to LabCorp for processing, the article highlighted.
First minister Nicola Sturgeon has announced plans to ease coronavirus restrictions in Scotland, outlining when non-essential stores will be able to reopen. See the road map here#ScottishLockdown #RetailStores #RetailNews #RetailReopening https://t.co/rR4eAec7lr

— Drapers (@Drapers) February 24, 2021
 2. Stores – 247 mentions
Sears stores to be converted into Covid-19 vaccination sites, physical stores facing tough competition from online shopping and Fry's Electronics to cease operations in the US were some widely discussed topics during last quarter. Dan Primack, business editor at Axios, a media company providing news and analysis, shared an article about abandoned stores of American retail chain Sears being converting into Covid-19 vaccination centres. Owing to their size and location, empty department stores are the ideal locations for mass vaccination drives. The unused stores in states like Arizona, Florida, Georgia, Minnesota and New Jersey are currently being used for administration of vaccines, the article highlighted.
Gary Mortimer, professor of consumer and marketing at Queensland University of Technology, further, shared an article about the emergence of click and collect stores during the coronavirus pandemic. The drive-thru shopping services gained popularity during the pandemic as people tried to limit the risk of contracting coronavirus infection. The click and collect stores are the latest trend in shopping and is the way forward as most of the purchases in the future are expected to become automated or online. Mortimer noted that click and collect stores, however, miss out on incidental purchases that a shopper makes when shopping within a store.
Other discussions surrounding stores included veteran journalist Steve Herman's tweet on Fry's Electronics, a US-based big-box store chain, closing its business permanently due to the impact of the Covid-19 pandemic. The company operated 31 stores across nine states in the US and had to shut down its operations as it was unable to adjust to the changes in the retail sector. Fry's Electronics started its winding down process in February.
Sears stores find new life as COVID-19 vaccination sites https://t.co/ikUhXk8ZI4

— Dan Primack (@danprimack) February 26, 2021
 3. Retailers – 174 mentions
The decline in retail sales in Canada, how an Australian furniture retailer weathered the coronavirus pandemic and Covid-19 vaccination drive boosting retail sales in the US were some broadly discussed topics in Q1 2021. According to a tweet shared by DJ Brisebois, president and CEO of Retail Council of Canada (RCC), the retail sales in the country declined by 3.4% to $53.4bn in December 2020. Canada recorded its worst sales drop since April, predominantly due to the impact of ongoing pandemic. Sales of sporting goods, books and music stores were the worst hit although sales of health and personal care products, and gasoline increased during the period.
Further, Eli Greenblat, senior business reporter at The Australian newspaper, shared an article on Nick Scali, an Australia-based furniture retailer, announcing its plans to return $3.55m of JobKeeper Payment provided by the Australian government to support businesses affected by the Covid-19 pandemic. The company took the decision after its sales volume increased by 89.9% in the second half of 2020 due to surge in demand for new furnishings. The furniture giant registered a profit of $40m, overcoming the challenges posed by the coronavirus pandemic.
Another discussion related to retailers was shared by Marsha Collier, an e-commerce expert, about the National Retail Federation (NRF) in the US forecasting retail sales in the country to expand between 6.5% and 8.2% this year. The NRF is making its estimate on the basis of distribution of Covid-19 vaccines across the US and reopening of the economy following the coronavirus-induced lockdown in 2020. Online sales are projected to surge between 18% and 23% or $1tn to $1.2tn in 2021. The retail sector registered a growth of 6.7% in 2020, growing by 3.9% compared to the previous year, despite the challenges posed by the pandemic.
Retail sales in #Canada posted their largest decline since the low of April driven by #COVID-19 , decreasing 3.4% to $53.4 billion in December! Extension of #lockdowns in #Toronto #Peel (going into 4th month) may be final straw for many of our #SME #retailers @RetailCouncil pic.twitter.com/eOP7Tbas5E

— DJ Brisebois-RCC (@loveretail) February 19, 2021
 4. E-Commerce – 122 mentions
E-commerce sales projected to breach the $1tn mark in the US, the e-commerce boom expected to continue post-pandemic and Covid-19 boosting growth of Brazilian e-commerce industry were some trending topics discussed during the previous quarter. Achyuta Ghosh, research head at Indian trade association NASSCOM, shared an article about the e-commerce sales in the US projected to surpass the $1tn milestone by 2022. The online shopping sales in the country rose to $183bn since the onset of Covid-19 pandemic, according to a report compiled by Adobe's e-commerce segment.
The American customers spent $844bn online between March 2020 and February 2021, including $813bn spent in 2020 alone, which is an increase of 42% from the previous year. The pandemic played a pivotal role in boosting the e-commerce industry, as consumers were forced to stay indoors and non-essential retail was shut down. Online shopping served as a replacement for in-person shopping for majority of the customers, the article highlighted.
Ian Murphy, a journalist and analyst, further, shared an article about e-commerce growth being accelerated by the Covid-19 pandemic. The e-commerce sales accounted for 21% of total retail sales in the US in 2020. According to a survey by LaserShip, a US-based regional parcel delivery company, 77% of the customers said that they will spend the same or more amount of time shopping online, even after receiving Covid-19 vaccination and lifting of movement restrictions.
The survey also mentioned that customers prefer home delivery of online purchases, despite the emergence of BOPIS (buy online pickup in store) during the pandemic. However, the unprecedented rise of e-commerce triggered by pandemic also led to soaring delivery and logistics costs, the article noted.
Another discussion surrounding e-commerce was shared by Jeremy Harpham, a B2B product marketing expert, about the Brazilian e-commerce sales expanding by 41% in 2020, generating 87.4 billion reais ($15.1bn). Out of 194 million online purchases recorded last year, 55.1% were made using smartphones, which accounts for 45.9 billion reais ($ 7.9bn). The emergence of m-commerce and rise in online shopping in Brazil was driven by the movement restrictions imposed due to the coronavirus pandemic, the article highlighted.
US #ecommerce sales to hit $1 Trillion in 2022 v/@TechCrunchhttps://t.co/8vcQ5FlpqG#retail #covid19 @anand_narang @JeroenBartelse @segundoatdell @smaksked @trevorsumner @Fabriziobustama @Nicochan33 @NarvijayYadav @AshokNellikar @FmFrancoise @LavaletteAstrid @RLDI_Lamy @baski_LA

— Achyuta Ghosh (@achyutaghosh) March 16, 2021
 5. Innovation – 114 mentions
Retail digital transformation and innovation trends and the role of artificial intelligence (AI) in retail strategies were some popular topics discussed during Q1 2021. Robert Hetu, vice president at Gartner Retail Industry Services, shared an article about the top trends that will dominate retail digital transformation and innovation in 2021. Touchless interactions to ensure customer safety will play a pivotal role in the retail industry.
Fulfilment execution, which facilitates excellence in fulfilment operations at retailer's physical and digital assets, will also be a significant trend. Customer experience provided by retail store associates will be key retail strategy apart from  collaborative ecosystems comprising of retailers, technology platforms and marketplaces that will enable retailers to expand their business.
Innovation was also discussed in an article shared by Rimah Harb, general manager at The Teralight Group, a telecommunications solutions provider, about the impact of AI and machine learning on retail strategies in 2021. Technological solutions such as AI and machine learning can support retailers in leveraging their data to strengthen customer relationships. AI can also be used for predicting customer behaviour, which will help brands in ensuring customer retention and loyalty in the future, while also enabling them to offer tailor-made products based on customers' needs, the article highlighted.
From contactless to #costop strategies, retailers must migrate to adaptable business models in response to #COVID19. Read more in @RetailDive about the top trends in #retail #digitaltransformation and #innovation for 2021, according to @Gartner_IT. https://t.co/YoGeCLP8xh

— Robert Hetu 🇺🇸 (@Bob_Hetu) February 24, 2021