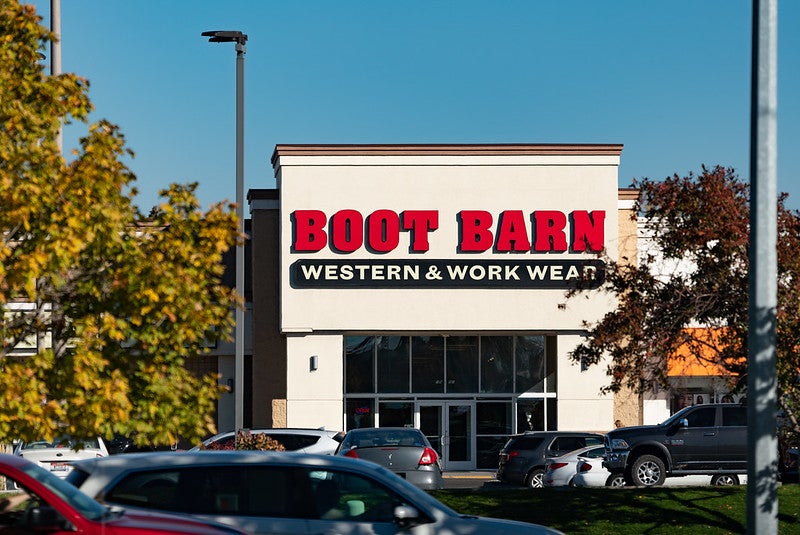 US-based lifestyle retailer Boot Barn has reported net sales of around $514.6m in the third quarter of fiscal 2023 (FY23), up by 5.9% from the same period of the prior fiscal year (FY22).
In the three months to 24 December, the retailer's same-store sales dropped by nearly 3.6%, against a same-store sales growth of 54.2% in Q3 2022.
Same-store sales for its retail stores also fell by around 0.8%, while its e-commerce same-store sales declined by roughly 15.2%.
Boot Barn reported its merchandise margin declined by 190 basis points (bps) compared with the prior-year period.
The company's net income for each diluted share was almost $1.74, compared with net income of $2.27 for each diluted share in Q3 2022.
Boot Barn opened 12 stores in the third quarter, taking its total year-to-date store openings to 33.
The company ended the quarter with a total of 333 stores in 41 states.
Boot Barn president and CEO Jim Conroy said: "I am extremely proud of the entire Boot Barn team for their tremendous execution as we delivered total sales at the high end of our guidance, despite late December storms that negatively impacted sales during the highest volume days of the quarter.
"New store sales continued to overperform our expectations and we were able to deliver retail store same-store sales that were roughly flat as we cycled an incredible 55.7% retail comp growth in the same period last year.
"Once again, we were able to maintain our predominantly full-price selling environment in what seemed to be a highly promotional holiday period across retail.
"Normalising for expected freight headwinds, we were able to achieve a merchandise margin rate nearly in line with last year's record-setting performance."
Boot Barn sells Western and work-related footwear, apparel and accessories from a wide range of brands for men, women and children.