The retail industry continues to be a hotbed of innovation, with activity driven by desire for convenience and simplicity and the growing importance of technologies such as Internet of Things (IoT), contactless payments, and cloud. In the last three years alone, there have been over 133,000 patents filed and granted in the retail industry, according to GlobalData's report on Internet of Things in Retail: Self-checkout POS terminal. Buy the report here.
However, not all innovations are equal and nor do they follow a constant upward trend. Instead, their evolution takes the form of an S-shaped curve that reflects their typical lifecycle from early emergence to accelerating adoption, before finally stabilising and reaching maturity.
Identifying where a particular innovation is on this journey, especially those that are in the emerging and accelerating stages, is essential for understanding their current level of adoption and the likely future trajectory and impact they will have.
70+ innovations will shape the retail industry
According to GlobalData's Technology Foresights, which plots the S-curve for the retail industry using innovation intensity models built on over 128,000 patents, there are 70+ innovation areas that will shape the future of the industry.
Within the emerging innovation stage, contactless kiosks and delivery drones are disruptive technologies that are in the early stages of application and should be tracked closely. RFID for inventory tracking, autonomous delivery vehicle navigation systems, and contactless card payments are some of the accelerating innovation areas, where adoption has been steadily increasing. Among maturing innovation areas are M2M payment interfaces and e-commerce robotic process automation, which are now well established in the industry.
Innovation S-curve for Internet of Things in the retail industry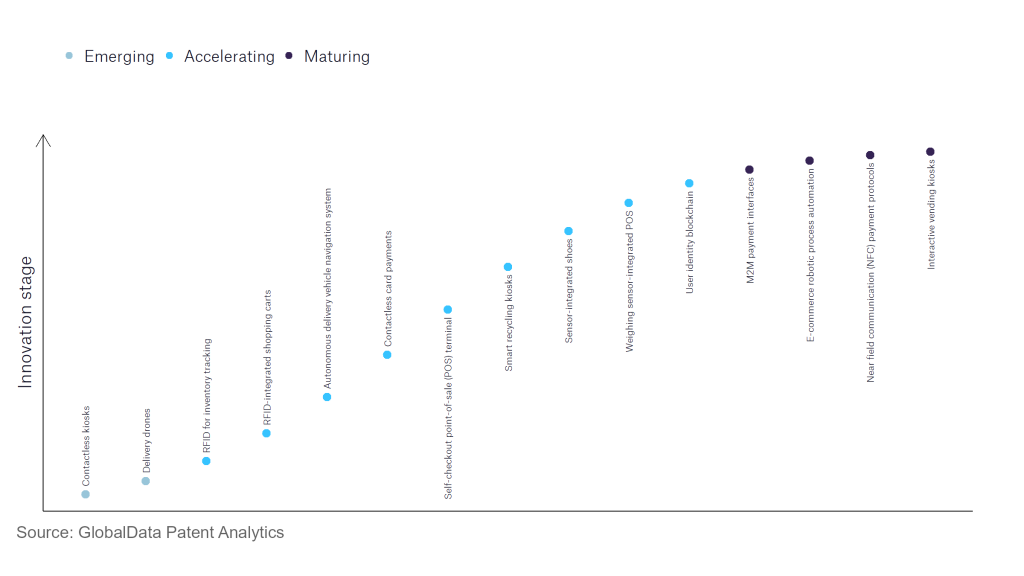 Self-checkout POS terminals are a key innovation area in Internet of Things
Self-checkout POS terminals enable consumers to pay for their purchased items without human intervention. These self-checkout terminals suit convenience stores and grocery stores, minimising consumers' time at billing desks. The best self-checkout POS terminals are those that can be customised to shoppers' needs and are cost-effective and easy to use.
GlobalData's analysis also uncovers the companies at the forefront of each innovation area and assesses the potential reach and impact of their patenting activity across different applications and geographies. According to GlobalData, there are 70+ companies, spanning technology vendors, established retail companies, and up-and-coming start-ups engaged in the development and application of self-checkout POS terminal.
Key players in self-checkout POS terminals – a disruptive innovation in the retail industry
'Application diversity' measures the number of different applications identified for each relevant patent and broadly splits companies into either 'niche' or 'diversified' innovators.
'Geographic reach' refers to the number of different countries each relevant patent is registered in and reflects the breadth of geographic application intended, ranging from 'global' to 'local'.
Patent volumes related to self-checkout POS terminals
Source: GlobalData Patent Analytics
Leading players in IoT-powered self-checkout POS terminals in terms of patents filed are Toshiba, NEC, Teraoka Seiko, Walmart, and Casio Computer. In August 2022, Grupo Exito, a Colombian grocery retailer, announced plan to implement a scalable self-checkout solution offered by Toshiba Global Commerce Solutions.
Leading players in this space in terms of application diversity are ArcSoft, Angel Playing Cards, Gatekeeper Systems, Metrologic Instruments, and Accel Robotics.
Samsung Group, Angel Playing Cards, PayPal Holdings, Everseen, and Accel Robotics lead the space in terms of geographic reach.
Consumers were habituated to seeking minimum human intervention while shopping amid the Covid-19 pandemic. This factor, along with convenience, will push up the proliferation of self-checkout POS terminals in the future.
To further understand the key themes and technologies disrupting the retail industry, access GlobalData's latest thematic research report on Internet of Things (IoT) in Retail and Apparel.
Premium Insights
From
The gold standard of business intelligence.
Blending expert knowledge with cutting-edge technology, GlobalData's unrivalled proprietary data will enable you to decode what's happening in your market. You can make better informed decisions and gain a future-proof advantage over your competitors.