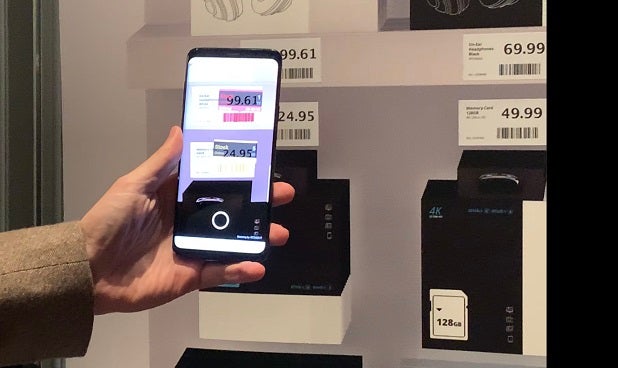 Augmented reality (AR) is "incredibly important" for retail customer engagement. This is the view of Kate Ancketill, the CEO and founder of GDR Creative Intelligence who spoke to Retail Insight Network at an event organised by software company Scandit.
She was joined by GDR senior consultant Eric Coulon who together spoke about current trends around AR in retail and the benefits of bringing connecting the physical retail experience with the digital one.
Rosie Lintott: How important do you think AR is for retail?
Kate Ancketill: "I think it's very important and becoming more important as opposed to VR because virtual reality is not so important for retail.  Whereas AR, much more practical, much more important for the bottom line, good for both customer engagement and also good for back end kind of staff support and associates kind of efficiency. So I think AR is really where it's at.
"It's relatively inexpensive to implement, getting cheaper all the time, of course, and with 5G, when it comes on board we'll have no latency issues, we'll have mass use availability in ways that we perhaps didn't have with 3G and 4G. I think that AR is going to become incredibly important for both customer engagement, bringing all the best advantages of browsing the web into the physical environment, and that is cracking the omnichannel question. And the company that cracks omnichannel basically wins, and AR is a big part of that"
Eric Coulon: "It's adding a bit of e-commerce experience to the store environment. And conversely, it can also help when you're shopping online, to convert. So we have this NIKE Fit example where you can try shoes virtually before buying them online. That's lifting a barrier in e-commerce so I think it's the best of both worlds."
RL: Do you think the UK is behind in terms of AR in retail compared to other countries?
KA: "I think everyone is trying to catch up with China, because China is way ahead but they have, shall we say, unique circumstances that they are an authoritarian state. There is no question of any citizen having rights to privacy, they don't have GDPR, so we do not want to go in that direction and hopefully we never will because that is an undemocratic approach to human rights.
"I think that there are some aspects of technology which is more advanced in the West, outside of the UK, in America, for example, but there are other aspects where we are holding our own. I don't think that the UK is massively behind anywhere else in Europe. I think it's ahead actually of continental Europe. And there's no question that UK retail is more advanced than anywhere I can think of in the continent of Europe, but it may be behind in certain pockets compared to the US."
RL: Have any new innovations stood out to you?
EC: "There is the Nike Fit that I mentioned which I think is really nice as a programmatic truth for flipping production, but you also have great executions and more exponential initiatives like there is a store in Japan called 'Hi Panda' where you have this amazing immersive experience in store as a consumer.
"It's a bit like the past in-store where you have things to discover in each section it's really bringing the drive to the store basically, it's a good reason to visit the physical store.
"I think Burger King found that 'Burn that Ad' thing was really good so you have to download the app. When you see a competitor advertisement, you can burn the advertising to get a voucher for a free Whopper. So I think that was a really nice way to drive out the competition."
KA: "And I would add to that by saying that I think that there is a new generation of department store arriving in mostly the US. Places like Show Fields, Beta, Neighbourhood Goods, Storey, all of these have something in common, which department stores have been sadly lacking in.
"That is frequent newness and uniqueness of product, which is predominantly in the case of those mentioned, products which are never seen anywhere else in the physical world are only available online. And you basically have to go there if you want to physically experience them, and they're usually concession based so there's frequent turnover, they're usually very high tech so you get great data if you are the seller and that allows them to alter their price points, etc.
"From the consumer point of view, I think the idea of going to retail especially a department store, where they're selling all the same stuff that everyone else already sells, and you can get online cheaper and it's the same thing every time you go back, there's not a surprise that that is dying on its feet. The idea of going somewhere where you see things that you've never seen before, cannot find anywhere else will be changed in a month's time and will have lots of experience will advocate activities going on. It's not rocket science that that is more appealing to today's consumer with a very short attention span."
RL: The high street is declining, do you think AR is going to bring it back?
KA: "I think that's probably too big an ask because it's such a complex set of reasons that the high street is not dying, but changing. I think anything which brings unique customer experience to the store will help it to survive. But it will be much bigger structural problems that will determine whether a particular store or chain of stores survives in the physical world or not, and AR will be one of 100 of those different factors that will have to take into account.
"The high street is going to shrink there's no question about that and it is going to change and it will become more residential, more work-oriented, more leisure-based and more experiential and certainly less fashion retail-based. We simply don't need as much fashion, especially in the mid-market as we used to because people got better things to spend their money on which are experiences and we have to be fairly unsentimental about that change and just get on with it.
"Reduce your portfolio by 30% minimum and make sure what you keep is in high footfall areas in places where people have money to spend, and you make it different every month and make it highly experiential, and you fully connect the physical with the digital experience."