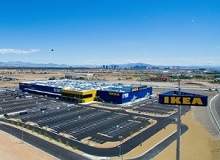 IKEA opened a store in Las Vegas, Nevada, US, last month.
Opened on 18 May, the branch became the Swedish company's first store and restaurant destination in Nevada, and its 42nd store in the US.
Built on 26 acres, IKEA features 1,300 parking spaces.
Aditya Birla Fashion and Retail signed a memorandum of understanding (MoU) to acquire the Indian division of Forever 21 from Diana Retail.
Aditya Birla Fashion and Retail is the retail unit of Aditya Birla group, while Diana Retail is the Indian franchisee of US-based apparel retailer Forever 21.
The financial details of the transaction have not been disclosed.
Walmart%20-%20TEXT.jpg" alt="Walmart – TEXT" width="300″ height="225″ />
US retail corporation Wal-Mart Stores unveiled plans to establish a supercentre at Lehigh Valley Industrial Park VII in south Bethlehem, Pennsylvania.
After already owning two fulfillment centres in Bethlehem that would boost its e-commerce business, the company now aims at building its first brick-and-mortar store in the city.
The new 158,000ft² store is expected to create approximately 300 new jobs.
Apparel retailer Gap announced plans to shut down 75 Old Navy and Banana Republic stores worldwide, as part of its plan to focus more on North American market and restore profitability.
The company is intending to concentrate on markets that have potential for short-term growth.
This plan will lead to the closure of all 53 Old Navy stores in Japan this year, reported Straitstimes.com.
Essar Oil UK unveiled plans to add 400 more stores in the country.
The company posted net profits of $244m in fiscal year 2015-2016, three times more than $70m posted a year ago.
A unit of Essar Energy, Essar Oil currently operates seven retail outlets in the UK.
Fashion brand H&M announced plans to open its first store in Puerto Rico this month.
To be located at The Mall of San Juan, the store will open on 9 June.
H&M North America president Daniel Kulle said: "We are thrilled to be opening the first H&M location in Puerto Rico and bring our fashion to both the local community, as well as visitors of this beautiful island."
Tesco employees in the Republic of Ireland went on an indefinite strike from 26 May.
The strike had been postponed due to talks between Tesco and Workplace Relations Commision (WRC).
However, with the breakdown of the negotiations, the employees of 70 stores again decided to launch an indefinite strike.
San Antonio-based fuel and convenience retailer CST Brands entered into a definitive agreement to sell stores in California and Wyoming to 7-Eleven, and its wholly owned subsidiary, SEI Fuel Services, for $408m.
The deal covers 76 stores in California and three in Wyoming.
The transaction is subject to customary closing conditions. It is expected to close this year.
Online retailer eBay acquired Swedish big data analysis provider Expertmaker to offer simpler product cataloging to consumers.
This acquisition will enable the online retailer to have access to data processing, particularly on product attributes.
The financial terms of the deal were not disclosed.
US-based supermarket chain Kroger announced its plans to hire an estimated 14,000 people in its supermarket division.
The chain has 431,000 associates, who serve in 2,778 retail food stores under a variety of local banner names in 35 states and the District of Columbia.
Kroger and its subsidiaries also operate an expanding ClickList offering, which is a personalised, order online, pick up at the store service, in addition to 2,231 pharmacies, 784 convenience stores, 323 fine jewellry stores, 1,387 supermarket fuel centres and 38 food production plants in the US.