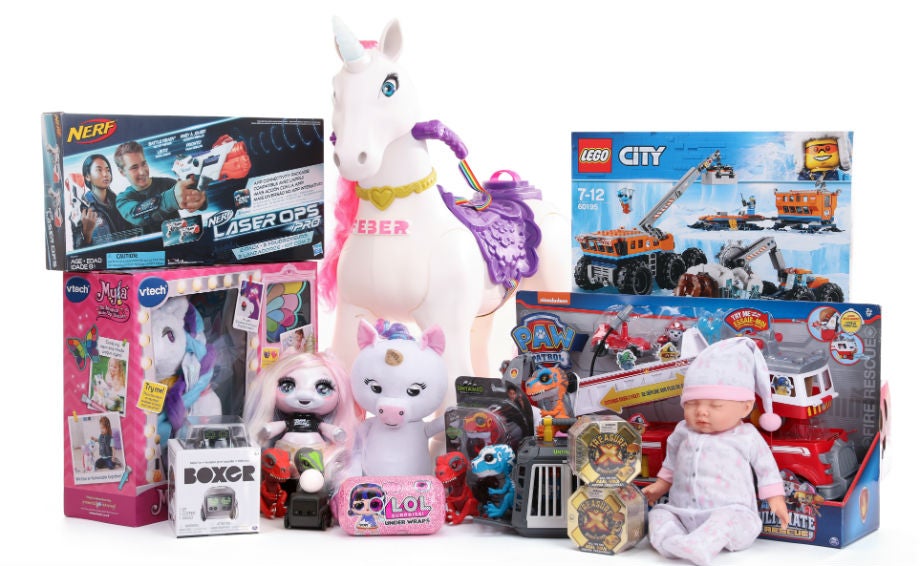 In the run-up to Christmas, three UK retailers share their insight into the most popular toys this Christmas. And how much will UK households spend on treating their children this holiday season?
Predicted spend on toys this Christmas
A poll of 2,000 British parents conducted by eBay has found that the average spend on toys this Christmas will be £392.82.
According to eBay, with 14 million parents in the UK, the total spend equates to £5.5bn on toys alone this Christmas.
The study has also revealed that parents will purchase an average of 19 toys ahead of Christmas morning. Nearly eight in ten parents also admitted to overspending at Christmas, with a third of parents even confessing to buying too many toys and having to keep some for other occasions.
However, the online marketplace has also seen an increase in budgeting this year, with 63% admitting they have a financial plan in place to ensure they can afford to buy children everything they want, with nearly a quarter of parents trying to limit their spending to under £200 overall.
When it comes to choosing toys, half of the parents said toys, which spark imagination, motivated their decision the most, with more than four in ten concerned about the educational impact of toys, while 45% buy toys, which they enjoyed playing with as a child.
Another factor influencing parent's choice are toys that stimulate children's 'creativity and artistic nature', with 47% saying this often motivates them to buy certain items.
While 56% of parents say their children's pester power has a 'massive impact' on their purchasing decision, many are influenced by recommendations from others, and the popularity of TV shows and books.
Ebay's most popular toys this Christmas
Alice Winter, Category Manager of Toys and Games at eBay.co.uk said: "In 2017 last year, we saw nearly 360 million searches for toys during the festive period. This year we wanted to highlight the 12 toys we know kids will love this Christmas, and also offer some unique insight into the benefits of playing with them."
Argos' most popular toys this Christmas
Argos' list features new toys that in retailers opinion are 'set to feature on every child's wish list' and which bring 'fantasy, technology, construction and discovery to toyboxes nationwide'.
Juliet Ward, Head of Toy Buying, at Argos, said: "This year's list is arguably our most exciting and eclectic to date. The list shows how toys are continuing to progress with interactive items amongst the most popular. We're also seeing the modernisation of more classic and traditional toys resulting in a varied and extensive list – everything from Boxer, the mischievous robot, to the Tiny Treasures Doll, which looks and smells just like a real baby.
"Social media trends are influencing toys more than ever before, such as the unicorn craze which has inspired great products like the Vtech Myla Magical Unicorn and the My Lovely Unicorn Electric Ride-On. The pocket-money-friendly collectibles craze also continues to evolve and succeed with LOL Surprise, Fingerlings and the Treasure X 3-Pack Chest all must-have toys for this year."
Amazon's most popular toys this Christmas
Amazon's top ten list features top ten toys from interactive robots and Paw Patrol truck to a Happy Potter LEGO set and Strictly Come Dancing board game.
Sriram Parthasarathy, Toys Category Leader, Amazon.co.uk. said: "The most exciting moment of Christmas Day is watching children unwrap their presents.
"Amazon offers thousands of top rated toys, including everything from unicorns to family board games – and our top 10 list includes the latest and greatest toys that will be in popular demand this festive season."