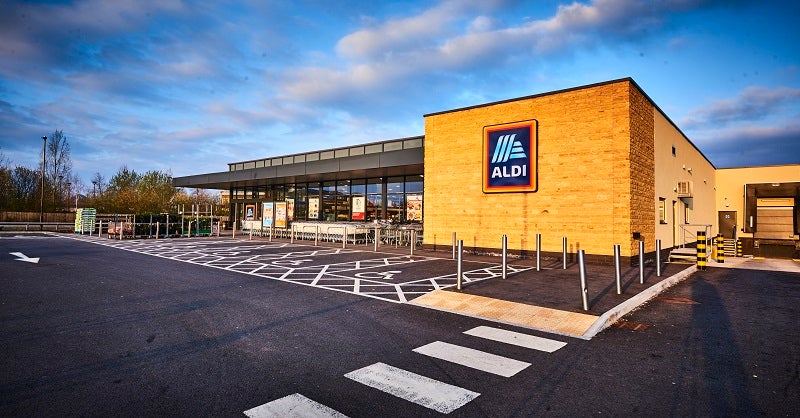 German supermarket chain Aldi has announced plans to double its UK store portfolio over the next two years.
The pledge came as the company released of its annual trading update for the year ending December 2018. The results show that Aldi's sales have increased by 11% to £11.6bn from £10.2bn in 2017, which the company attributes to an increase in footfall of over 800,000 more customers shopping in-store.
Aldi's store expansion will focus on inside the M25, opening more standard-sized Aldi stores and new, smaller-format Aldi Local stores on London high streets. Locations will include Sydenham, Blackheath and Watford.
The company added that it will invest £1bn in its overall store expansions, including the opening of new distribution centres. Aldi's store expansion plan is part of its target to reach 1,200 UK stores by the end of 2025.
Aldi UK and Ireland chief executive officer Giles Hurley said: "Every day, thousands of British shoppers are swapping and saving with Aldi thanks to our carefully-selected range of great quality products and our commitment to the lowest prices in grocery.
"Whilst our expansion will continue to reach every part of the UK, we're increasing our focus on London, where our market share is just 3.4%, compared to 8.1% nationally. London shoppers regularly tell us they would switch to Aldi if there was one nearby, so there is clearly a significant growth opportunity for us in the capital."
Hurley added: "For almost three decades we've proven that investment equals growth – investment in our infrastructure, our people and our prices. The commitment we have made to our customers to continue investing in the UK over the coming years remains as strong as ever.
"Today, more than half of Britain's households shop with Aldi. Now we'll be bringing our winning combination of outstanding quality at the lowest prices to millions more households in the South East as well as the rest of the UK."
Analysts comment on Aldi's organic growth
GlobalData retail analyst Thomas Brereton said: "Aldi has once again impressed the grocery sector, revealing yet another year of double-digit revenue growth for 2018 as sales increased by 11% to £11.3bn, benefitting from the same low consumer confidence that is ailing non-discounters across the market.
"But while Aldi rightfully deserves commendation for this, it also increased its store network by 8% over the year, prompting questions about its dominance over rivals with respect to organic growth. Furthermore, achieving this growth has not come cheap, with Aldi having to sacrifice a significant chunk of its profits – falling £68m on 2017 to £197.9m – in favour of both greater store and price investment."
Aldi must assess store targets and product mix
Brereton added: "And to the chagrin of rivals, investment will continue to be Aldi's mantra for 2019 and 2020, revealing plans to invest £1bn into stores and distribution centres across the UK as it looks to meet its ambitious footprint target of 1,200 stores by the end of 2025. Following the success of its Local fascia format and admittance of its underdeveloped presence in London, growing its market share in the convenience-driven capital is its next clear aim with UK & ROI CEO Giles Hurley saying he can see Aldi opening 200-250 stores 'comfortably.'
"But Aldi must be wary of overly re-appropriating investment into London stores; the labyrinthine nature of urban locations and the smaller sites available means distribution costs will be higher and harder to recoup without imposing a price mark-up. So Aldi must carefully assess its product mix proposition to make the move a success. For example, one unmistakable appeal of Aldi is its Specialbuys offer but it has sacrificed this section in its Balham small-store format trial. And so, Aldi should not expect to tempt shoppers away from rivals in London as easily as it has done elsewhere in the country.
"Aldi's outlook for 2019 is incredibly positive – Brexit uncertainty is causing shoppers to look to save on essentials where possible through trading down, a trend that will only benefit the discounters. But in the long-term, there are some questions arising about the necessity of developing a 1,200 store network alongside such a seismic shift towards online shopping – over 9% of the grocery market will be online by then, and Aldi may need to reassess such an enthusiastic store target as consumer habits continue to develop," Brereton concluded.