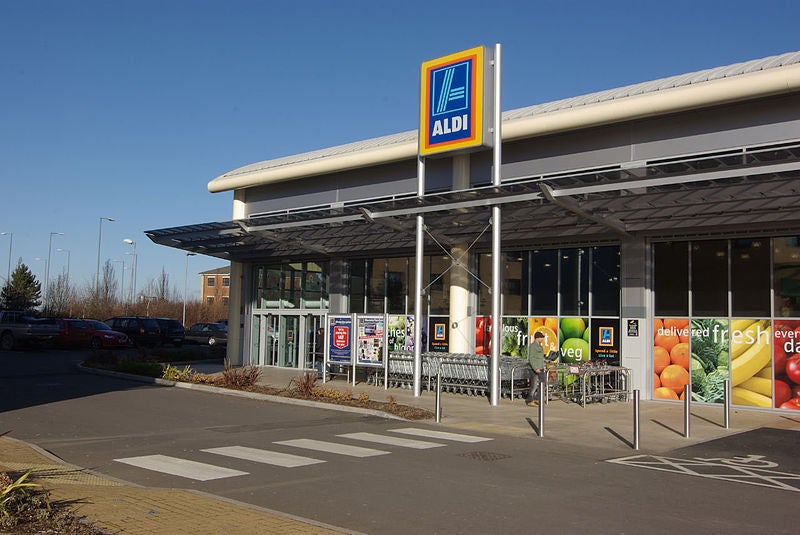 Discount supermarket chain Aldi sold almost £1bn of goods in December following the retailer's 'busiest-ever' week in the run-up to Christmas.
In the week commencing 17 December, Aldi recorded a 10% increase in sales, compared to the same week in 2017.
The discounter said that the strong sales this Christmas were driven by 'exceptional demand for premium ranges', including 'Specially Selected' and 'Exquisite' lines.
Aldi UK CEO Giles Hurley said: "Our Christmas range was the largest and most innovative yet and caught the imagination of our customers, who visited our stores in record numbers.
"Although we saw strong growth across all key categories, the standout performance was in our Specially Selected brand where shoppers treated themselves to premium products for a fraction of the price they would have paid elsewhere for similar quality products.
"A key factor behind our record performance was the collective commitment, energy and enthusiasm of all our colleagues, and I want to thank them for all their hard work at this exceptionally busy time."
During the festive period, the discounter sold more than 17 billion bottles of wine, champagne and prosecco, an equivalent to 3.2 million glasses a day. Aldi also sold nearly 50 million mince pies and 100 million sprouts during December.
Hurley added: "We begin the New Year with great momentum as the UK's fastest-growing supermarket and on the back of record Christmas sales.
"This has been achieved by bringing amazing-quality groceries at the lowest prices to our customers and this remains our key focus for the year ahead."
Last year, Aldi opened 65 new stores, increasing its UK store portfolio to 827. Following the new store opening in 2018, the retailer remains on track to achieve its long-term target of 1,200 UK stores by the end of 2025.
The supermarkets share of the UK grocery market currently stands at 7.6%, an all-time high.
Meanwhile, Lidl and Aldi overtook major supermarkets, including Tesco and Morissons, during Christmas as discounters combined market share reached 12.8%, up from 11.4% the previous year.
According to Kantar Worldpanel, this is mainly due to an influx of festive shoppers at Aldi who typically shop at more expensive food retailers.
Morrisons chief executive David Potts said: "Going into November there was a sense that customers were a bit more cautious, a bit more careful with their spending and there was a feeling of uncertainty in the country that may have led to that cautiousness."
He added that both affluent and price-conscious consumers had been concerned to keep a limit on the total amount they spent over Christmas.
Potts continued: "People became increasingly savvy and conscious of the macro-political situation in the country and how it may influence 2019 and how it may affect them."
Kantar Worldpanel head of retail and consumer insight Fraser McKevitt said: "The discounters have continued to make their mark over Christmas: two-thirds of all households shopped at either Aldi or Lidl over the 12-week period, culminating in a highest-ever combined Christmas market share of 12.8%."