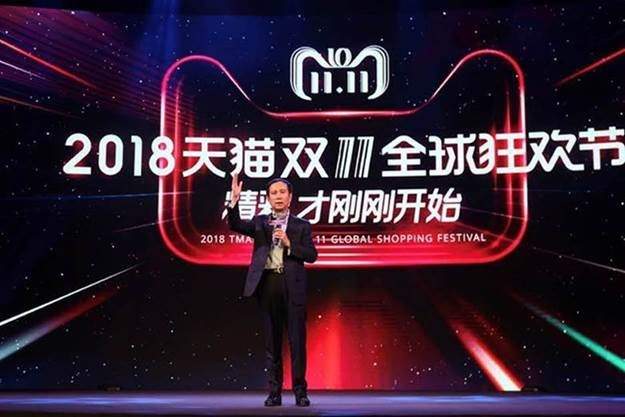 Alibaba launches 10th Single's Day event and promises 'largest ever' shopping festival as the event goes international.
During an opening ceremony for this year's Single's Day festival—also known as the 11.11 shopping festival as it takes place on 11 November – CEO Daniel Zhang promised the event will be 'bigger and more successful than previous years' following initiatives taken by Alibaba under its New Retail strategy.
The New Retail strategy seeks to integrate online and offline shopping experiences for consumers across a number of products and services.
Alibaba Group CEO Daniel Zhang said: "This year marks the 10th anniversary of 11.11. On the back of China's explosive digital transformation, the festival's astounding growth over the past decade has powered the steady growth of quality consumption sought by Chinese shoppers. The evolution also showcases the development of the Alibaba ecosystem over time expanding well beyond e-commerce."
Zhang added: "Over the last two years, we have pioneered the concept of new retail to accelerate the digital transformation of the offline. We are excited by the impressive results achieved to date and will continue to be the driving force innovating for merchants and customers in the coming decades. We aim to become both the number-one business partner for brands and the number-one shopping destination for consumers."
The festival will also see participation from merchants and consumers outside China to mark the event's 10th anniversary, as for the first time Alibaba's Southeast Asian subsidiary Lazada will jointly hold Single's Day promotions across Singapore, Malaysia, Thailand, Indonesia, the Philippines and Vietnam.
Apart from online shopping platforms, Single's Day promotions will be provided by food delivery service Ele.me, food and lifestyle information service Koubei, supermarket chain Hema, and other Alibaba ecosystem offline retail units.
In the run-up to 11.11, Alibaba will host a series of events increasing the excitement around the festival.
A 'see now, buy now' fashion show will leverage customers' interest in live streaming. The four-hour show will feature the latest collections from over 60 international and domestic brands, with more than 1,000 products making their debuts. The show will be broadcast live on ten platforms, including the Taobao app, Alibaba's video platform Youku, and social media platform Weibo.
Alibaba will also host a Single's Day gala celebration on the evening of 10 November, which will be broadcast live by Youku. According to Alibaba, this year's gala will tell a tale of four cities, featuring stars from reality shows.
Last year, the company recorded $25.3bn in gross merchandise volume (GMV) during the event, compared with $7.8m in total sales on its e-commerce platform during the first Single's Day festival in 2009.