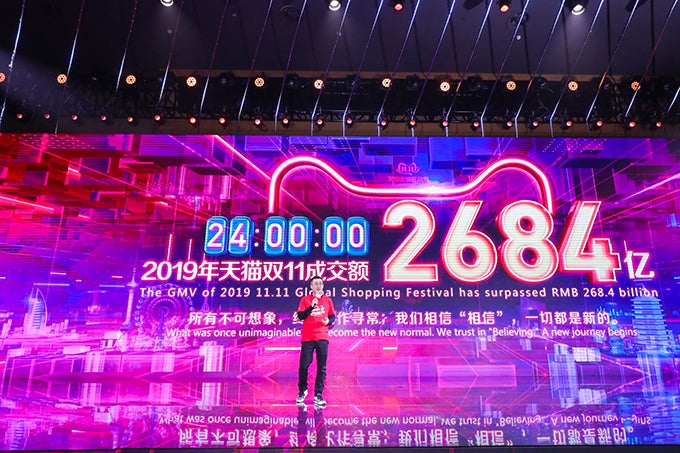 Chinese e-commerce giant Alibaba Group has recorded sales of US$38.4bn for its 24-hour Singles Day 2019 shopping event
The Singles Day is the closing event to Alibaba's 11:11 Global Shopping Festival, which started on 21 October, and was the first Singles Day since the departure of Alibaba founder Jack Ma.
This year, the event kicked off with a live performance from US musician Taylor Swift and live-streamed promotions of over 1,000 brands. Within the first two hours, Alibaba announced it had made more than $18bn. After 11 hours, Alibaba said sales had exceeded $25bn.
Over 22,000 overseas brands from 78 countries and regions participated, with the total of new foreign brands rising by 300% year-on-year, according to Alibaba.
Alibaba's Taobao and Tmall president Fan Jiang said: "Today we showed the world what the future of consumption looks like for brands and consumers. We are meeting the growing demand of Chinese consumers and helping them upgrade their lifestyles, while introducing new users to our digital economy from across China and around the world."
However, year-on-year sales growth rate for the event dropped to 26% from 27% in 2018, the slowest growth since its launch in 2009. The decline has been attributed to the slowing down of e-commerce in China, as the country's economic growth heads toward a historic low.
Last year, Singles Day recorded $30bn in sales, surpassing sales of any single US shopping event, such as Black Friday or Cyber Monday – with the latter recording sales of $7.9bn in 2018.
GlobalData principal retail analyst Honor Strachan said: "Singles Day continues to get bigger and better every year, with no sign of the shopping event waning like we have started to see with the impact of Black Friday in the West. While Alibaba's sales uplift of 26% slowed marginally on 2018, this growth is extremely impressive given the slowing economy in China and trade wars with the US impacting consumer willingness and ability to spend. However, we do expect a level of pent up demand over the course of 2019 contributed to this performance.
"While the depth of discounts and brand participation is crucial to the success of the day, each year Alibaba makes the event engaging, inclusive and entertaining. This year it streamed a live four hour show, finishing off with a short set by Taylor Swift – making Singles Day a major date in the Chinese calendar and crucial to the annual performance of the e-commerce market in China.
"Total online sales in the country are forecast to rise 22.3% in 2019 to 2,862bn yuan, so Alibaba takes 9.4% of this annual spend through its site for Singles Day – highlighting the success and importance of the event to generate consumer spending."