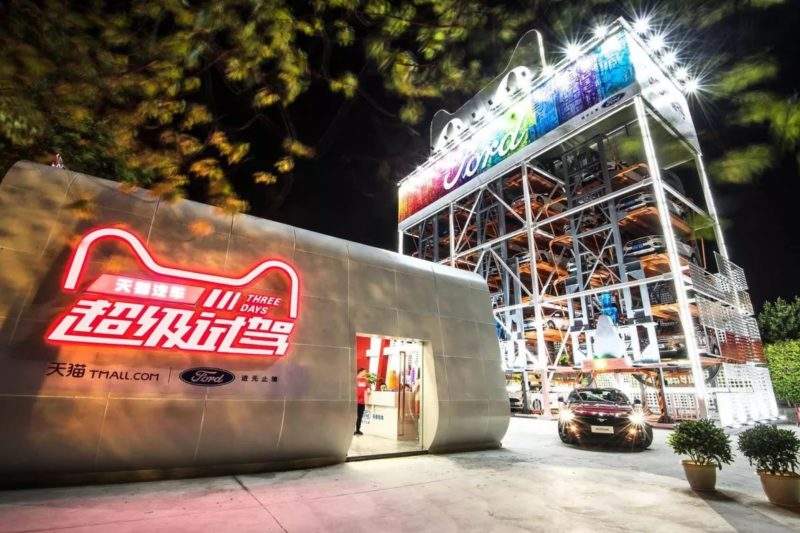 Alibaba has unveiled its 'Super Test-Drive Center' in Guangzhou, China with over 100 Ford cars available for Chinese customers to select from a giant 'vending machine'.
Until 23 April, customers will be able to sign up on the Tmall or Taobao mobile app to pick up the selected car from the unmanned dispenser for a free three-day test drive. This will provide them with full experience of the vehicle before they need to decide whether they want to keep it.
The collaboration between Alibaba Group-owned Tmall Autos and Ford, marks an important step towards a buying experience that fully integrates the best of the online and physical worlds for Chinese consumers.
Tmall general manager of vehicles Gu Wanguo said: "By leveraging Alibaba's data intelligence and technologies, the auto vending machine and super drive test services can enable auto brand owners and distributors better serve their customers."
He added: "Consumers can use the internet to access more accurate, convenient services and get a deeper understanding into particular vehicles. In the meantime, we are opening our car vending machine's infrastructure to the entire industry to leverage and enable their distributors, in hopes of helping upgrade the automotive sector as a whole."
Once the vehicle is chosen, the buyer needs to put down an electronic deposit and schedule a pick-up time, all from the app.
The vending machine is exclusively offering Ford models including the brand's Explorer SUV, Mustang and Escort and will deliver the test car to the driver in less than 10 minutes.
In order to pick up a vehicle chosen on the app, the buyer needs to take a 'selfie' to ensure they are the only person who can pick up the vehicle from the vending machine.
When they arrive at the facility, customers need to verify their identity with their selfie and the vehicle they selected is delivered from the multi-storey car dispensary to the ground floor where the test drive begins.
If the consumer does not like the car chosen, they can take out a different model.
In order to purchase the vehicle, buyers need to visit Ford's offline 4S stores to pay the remaining balance after the deposit they made on the Tmall or Taobao app.
Those who decide to keep the car after a three-day test drive will be entitled to discounts and other incentives provided to potential buyers based on consumer insights derived from user activity and history with the Alibaba ecosystem.
Alibaba has also revealed plans to build similar car vending machines in Beijing and Hangzhou, while it continues to explore collaboration opportunities with Ford in cloud computing, digital marketing, as well as in-car operating systems with Alios, Alibaba's IoT operating-system developer.