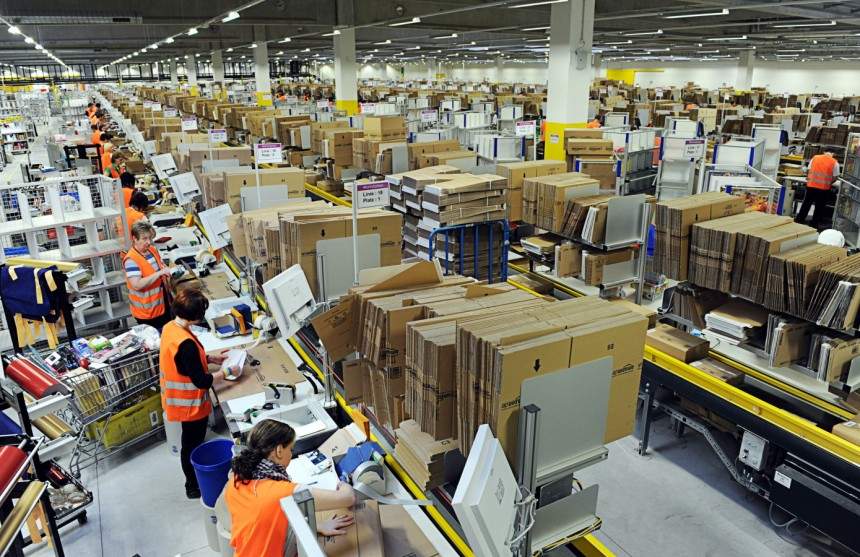 Amazon has secured two patents for wristbands that can track a warehouse worker's position and assess their performance.
The bracelets emit radio signals or ultrasonic waves which are received by a warehouse's inventory bins. The wristband can then point the worker to the correct bin to collect a parcel, or buzz and vibrate to inform them that they are looking in the wrong bin.
The patient is clear that the devices are intended to improve efficiency and worker performance, rather than as a means to 'track workers and order them around', as the London Evening Standard reported in October 2017 when the applications for the patents were made.
"Existing approaches for keeping track of where inventory items are stored, however, may require the inventory system worker to perform time consuming acts beyond placing the inventory item into an inventory bin and retrieving the inventory item from the inventory bin, such as pushing a button associated with the inventory bin or scanning a barcode associated with the inventory bin," reads one of the patents.
And while the inventory system worker may be required to perform less time consuming tasks when a computer vision system is used to track placement of the inventory item, such a computer vision system may be computationally intensive and expensive."
The patents for the ultrasonic and radio-frequency wristbands were filed by Jonathan Cohn, senior technical programme manager for Amazon Go, and Tye Brady, chief technologist for Amazon Robotics, respectively. The wristbands are the latest in a series of Amazon projects that take advantage of technological advances, following the company's unveiling of Prime Air, the automated delivery service that uses drones to send parcels, and cashier-less shop Amazon Go.
It is reported that Amazon delivers 608 million packages a year, averaging 1.6 million a day, to 80 million users of Amazon Prime.
"Accordingly, improved approaches for keeping track of where an inventory item is stored are of interest," concluded the patent.