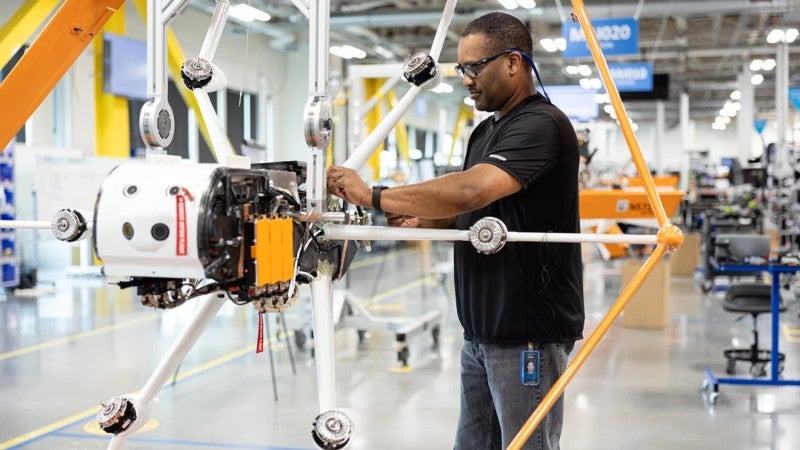 E-commerce retailer Amazon has confirmed that it will start delivering products using Prime Air drones in the US later this year.
The company will initially launch the service to customers in Lockeford, California.
Amazon Prime Air drones are programmed to drop parcels in customers' back gardens.
They are equipped with a range of technologies to help them detect static objects like chimneys, as well as moving objects on the horizon such as other aircraft.
In a statement, Amazon said: "If obstacles are identified, our drone will automatically change course to safely avoid them.
"As our drone descends to deliver the package into a customer's backyard, the drone ensures that there's a small area around the delivery location that's clear of any people, animals or other obstacles."
The retailer is currently working with the US Federal Aviation Administration (FAA) and local officials in Lockeford to secure permission to launch the service.
If approved, customers in Lockeford will be able to place an order for Prime Air-eligible items on Amazon.
They will receive an estimated arrival time with a status tracker for their orders and be invited to provide feedback to improve the system.
California State Assemblyman Heath Flora said: "Lockeford residents will soon have access to one of the world's leading delivery innovations.
"It's exciting that Amazon will be listening to the feedback of the San Joaquin County community to inform the future development of this technology."
Amazon said it is committed to investing in the community, creating jobs and establishing partnerships with local organisations.
Last month, US-based retail giant Walmart and its delivery partner, DroneUp, revealed plans to expand their drone delivery services to more locations across the US.
The companies aim to extend the delivery network to 34 sites across Arizona, Arkansas, Florida, Texas, Utah and Virginia by the end of this year.