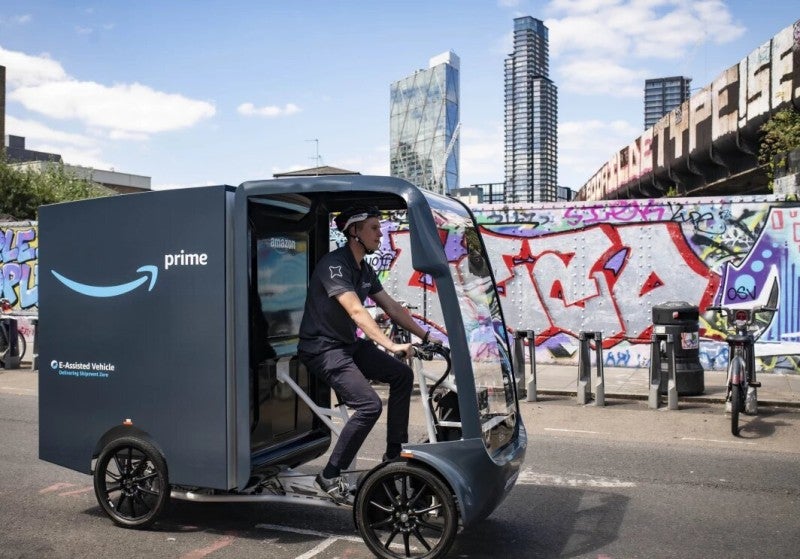 E-commerce giant Amazon has announced an investment plan worth more than €1bn ($973m) to electrify and decarbonise its delivery fleet in Europe.
The company currently operates more than 3,000 electric vans in the region and aims to increase this to more than 10,000 by 2025.
It also plans to double its micro-mobility hub network during this timeframe.
Amazon's micro-mobility hubs allow the retailer to operate new delivery methods, such as e-cargo bikes and on-foot deliveries, instead of the traditionally used delivery vans.
They are currently available in more than 20 cities across Europe, including London, UK.
In addition, Amazon will invest in thousands of chargers across its European facilities to improve fleet charging hardware for the company and its partners.
The online retailer is also planning to add 20 vehicles to its electric heavy goods vehicle (HGV) fleet in Germany by the end of this year.
It currently operates five electric HGVs in the UK.
To facilitate this expansion, Amazon will build hundreds of specialised fast chargers across its European facilities.
These chargers will be capable of powering the electric vehicles in around two hours.
Amazon said the investment will expedite its progress towards achieving net-zero carbon emissions by 2040, which is ten years ahead of the Paris Agreement.
Amazon CEO Andy Jassy said: "Our transportation network is one of the most challenging areas of our business to decarbonise, and to achieve net-zero carbon will require a substantial and sustained investment.
"Deploying thousands of electric vans, long-haul trucks, and bikes will help us shift further away from traditional fossil fuels—and hopefully, further encourage transportation and automotive industries in Europe and around the world to continue scaling and innovating, as we will have to work together to reach our climate goals."
Last week, Amazon launched an initiative to provide entrepreneurs from underrepresented backgrounds with access to capital.