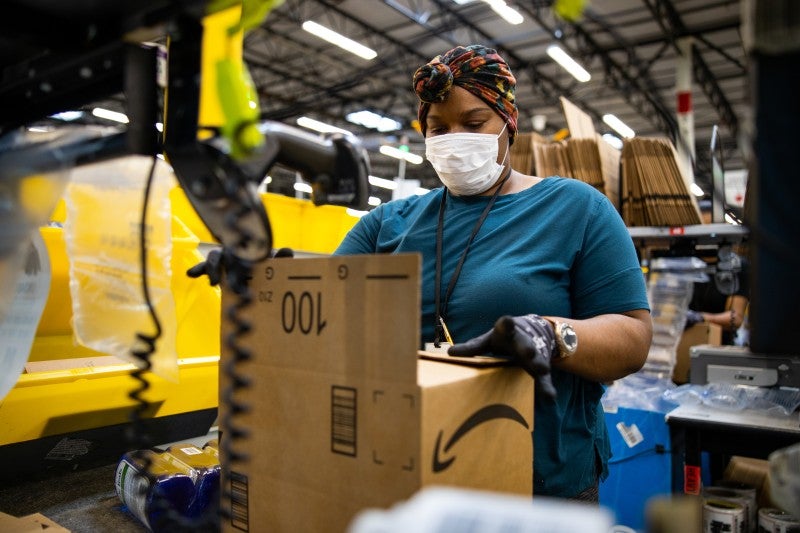 E-commerce giant Amazon has announced an investment of nearly $1bn over the next year to increase the pay of its front-line employees in the US.
The company's customer fulfilment and transportation employees will receive an average starting pay of more than $19 an hour, compared with the $18 they received before.
Depending on their position and location in the country, they will earn between $16 and $26 an hour.
Employees will also have the opportunity to take their pay at any point in the month.
Reuters reported that despite the rise in front-line employee pay, the minimum wage for Amazon's hourly employees in the US will remain at $15, according to a spokesperson.
In addition, the retailer has announced an investment in career development programmes, which brings its total investment in employee benefits to nearly $10bn this year.
These programmes are part of the company's efforts to upskill 300,000 employees by 2025.
Amazon Worldwide Operations senior vice-president John Felton said: "Front-line employees across customer fulfilment and transportation will now earn, on average, more than $19 an hour in the US, and they also have access to a growing range of comprehensive benefits to support themselves and their families.
"Continuing to invest in pay, providing easy access to earned wages at any time during the month, and offering great benefits and career advancement opportunities are all part of our long-term efforts to be the best employer in the world."
The announcement comes after British retailer Marks & Spencer launched a £15m ($16.9m) support package to help employees deal with rising living costs.
From 1 October, the hourly pay of more than 40,000 M&S colleagues will increase to a minimum of £10.20, which is above both the UK's national and real living wage.