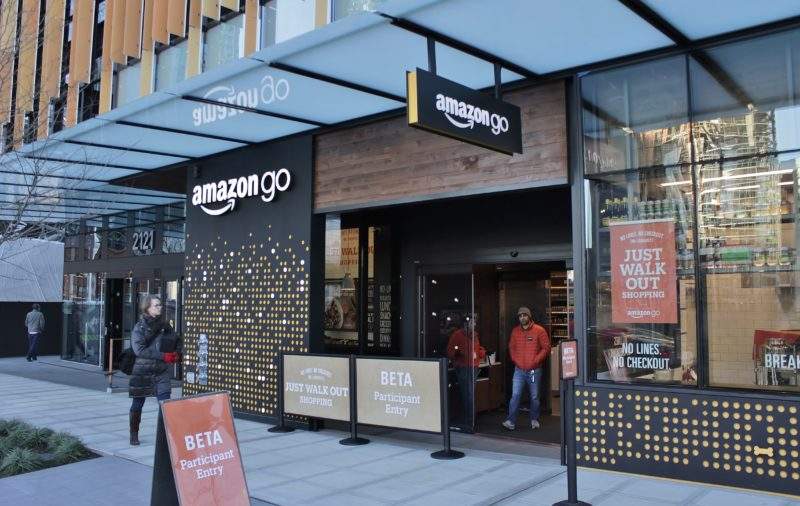 Amazon has become the first retailer to open a check-out free supermarket, where you can buy groceries with no human or self-service interaction, making dreaded supermarket queue a thing of the past.
Amazon Go provides customers with a unique "Just Walk Out" shopping experience, avoiding the need to wait in line, with the help of what the company calls the world's most advanced shopping technology.
Before entering the store, shoppers must install the Amazon Go smartphone app. Sensors on the shelves add items to the bill as customers pick them up and delete any they put back. When the shopper leaves the store, the items are calculated and the associated card is charged, and a copy of the bill is also sent to the customer.
The store uses a combination of computer vision machines, learning algorithms and sensors which allow the retailer to see what people have chosen and charge their accounts appropriately.
Items available in the store include ready-to-eat breakfasts, lunches, dinners, and snacks, as well as some grocery staples like bread, milk, cheese and chocolates. Amazon Meal Kits will also be available for purchase.
While the shop can operate without staff there is a team of staff in the store to prepare the food, stock shelves and help customers. Amazon employees can help the customers with recommendations or information on any products sold.
Currently the only Amazon Go shop is located in Seattle and there is no information whether Amazon is planning to expand.
Amazon has been trialling the check-out free store with its employees since late 2016, with the expectation of opening for shoppers in 2017, but the opening was delayed due to technical issues. According to Amazon insider, the system was not identifying customers of similar body types, and children moving items to the wrong places on shelves confused the system.
Gianna Puerini, head of Amazon Go, said the store had operated well during the test phase: "This technology didn't exist – it was really advancing the state of the art of computer vision and machine learning."
The Seattle store is not Amazon's first attempt at brick and mortar retailing. In 2015 the firm opened its first physical bookshop, also in Seattle where the company is based. There are now 13 in the US – as well as dozens of temporary pop-up outlets, as well as 470 Whole Food stores that Amazon acquired last year.