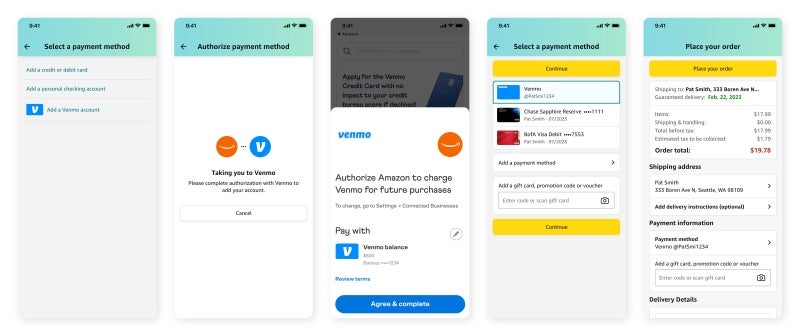 E-commerce giant Amazon has introduced Venmo, a digital wallet owned by PayPal, as a new payment option for US customers shopping on its online platform or mobile app.
To use the service, customers can add their Venmo as a payment method on the Amazon account page before selecting Venmo at checkout.
Customers can either select Venmo as their payment option during checkout or as their default payment option after adding their Venmo account.
Amazon has started rolling out the Venmo payment service to select customers, with plans to introduce it to customers across the US by 'Black Friday' on 25 November.
Amazon Worldwide Payments vice-president Max Bardon said: "We want to offer customers payment options that are convenient, easy to use and secure—and there's no better time for that than the busy holiday season.
"Whether it's paying with cash, buying now and paying later, or now paying via Venmo, our goal is to meet the needs and preferences of every Amazon customer."
Venmo said the partnership will allow its US customers to check out 'easily and quickly' for their Amazon purchases.
The company currently has nearly 90 million customers across the country.
PayPal senior vice-president, general manager and consumer head Doug Bland said: "We know that the Venmo community of nearly 90 million users value the safety, security, ease and familiarity that paying with Venmo helps to bring to the checkout experience.
"The ability to pay with Venmo on Amazon continues our ongoing commitment to offer the community more ways to spend, send, receive, and manage their money with Venmo."
Last week, Amazon filed two legal complaints in Spain and Italy as part of its efforts to combat global fake review brokers.
The legal actions mark the retailer's first criminal complaint in Italy and its first lawsuit in Spain.