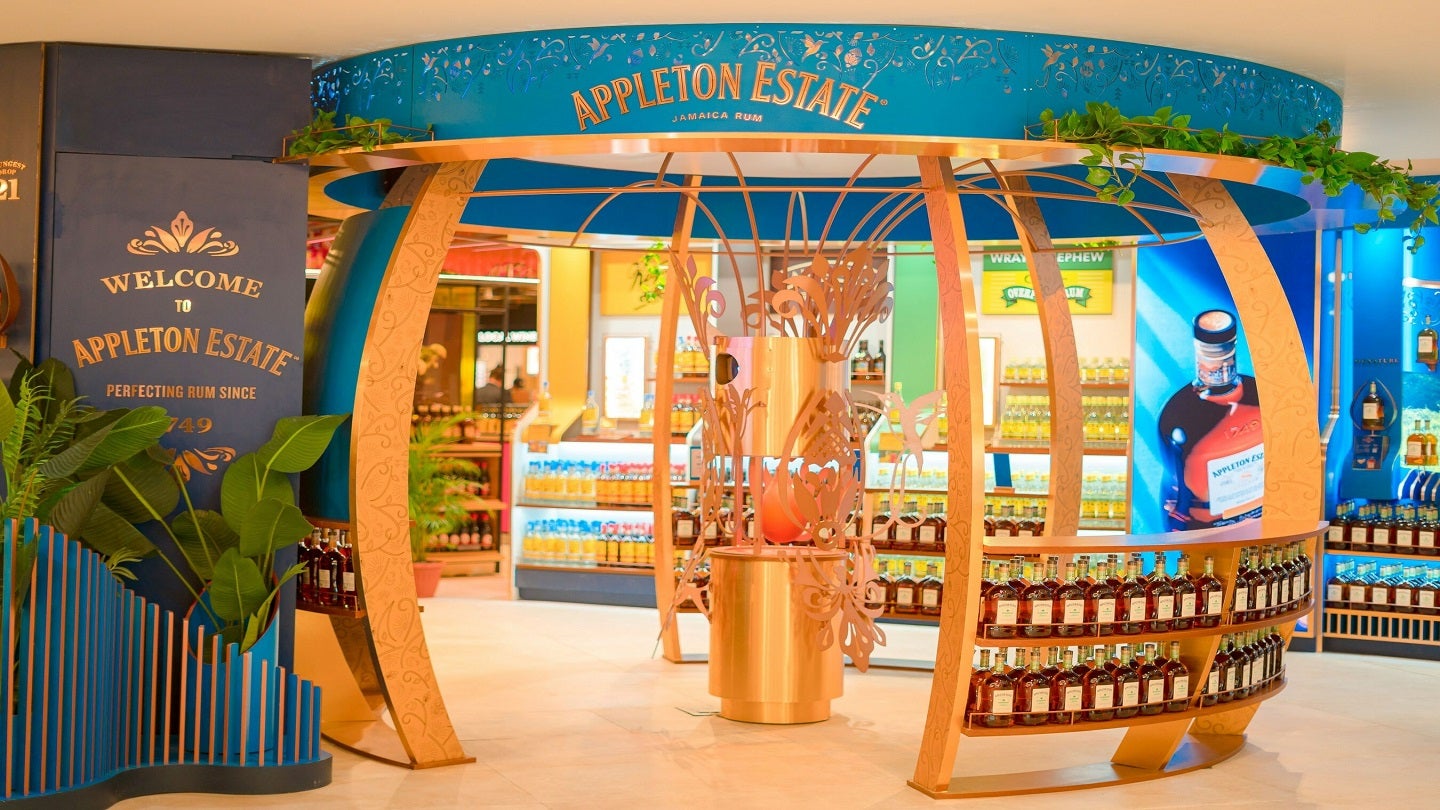 Jamaican rum brand Appleton Estate has opened its first premium boutique at the Sangster International Airport in Montego Bay, Jamaica.
Located at the airport's main duty-free store, the shop-in-shop combines physical, multisensorial and digital elements.
Its physical design is based on the Appleton Estate's insignia, which consists of five of Jamaica's national symbols.
The Sangster store features a tasting bar, where brand ambassadors demonstrate how to make various cocktails.
Travellers can also learn the making process of Appleton Estate's serves and classic cocktails using the personalised digital insignia guide on their phones or tablets.
In addition, they can receive personalised digital messages created by the shop's brand ambassadors by purchasing the Appleton Estate 15 Year Old or 21 Year Old bottle.
Shoppers can have access to detailed descriptions of any rum they pick by scanning the front label with a mobile device.
These include individual tasting notes and cane-to-cup explanations of the distillery's production process narrated by by Appleton Estate's master blender, Joy Spence.
Campari Group Global Travel Retail managing director Marco Cavagnera said: "We are thrilled to open the Appleton Estate experience at Montego Bay Airport, just 50 miles from where our incredible rums are lovingly crafted.
"It's a perfect premium location to engage shoppers by showcasing every facet of Appleton Estate its rich history, passion for natural ingredients, local provenance, the skill of our Master Blender Joy Spence and the versatility of the award-winning portfolio created under her guidance, ensuring there is an Appleton Estate rum for any elevated occasion, from premium cocktail-making to sipping rums."
Based 50 miles from Montego Bay in Nassau Valley, Appleton Estate claims to be a global leader in premium aged rum.
The company's aged rums contain no additives, are aged entirely in Jamaica and use pure, filtered limestone water in their production.