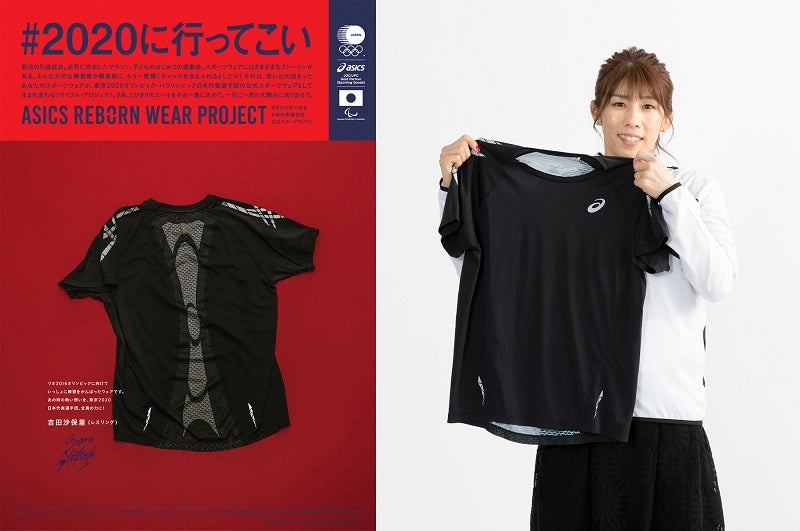 ASICS is to launch the Reborn Wear Project (ARWPJ), turning used and recycled clothing into uniforms for the Tokyo 2020 Japan Olympic and Paralympic teams.
The project aims to support Japan's Olympic and Paralympic team by collecting up to 30,000 items of sportswear donated from schools, sports days and marathons.
Collection boxes will be stationed at ASICS stores, sports retailers and sports events. They will display a two-dimensional barcode, which will allow users to access the ARWPJ campaign website and sign up to an email newsletter displaying athlete messages, information on Tokyo 2020 and progress reports.
Also available is a content generator that will enable users to digitally frame photographs of sportswear that holds sentimental value and post it on social media.
Advertisements will be released featuring advisory ASICS staff Yoshihide Kiryu and Saori Yoshida with their personal sportswear. The ARWPJ is open for all in Japan to participate and will accept all clothing regardless of the brand.
Three-time Olympic and 14-time world champion Yoshida said: "Through this project, people from around the country can feel like they're part of the team. It feels nice to make a different kind of contribution to the Games effort."
In addition to this recycled clothing project and promoting sport, ASICS aims to advance sustainability and reduce CO2 emissions by 2030, keeping in line with the UN's Sustainable Development Goals (SDGs).
ASICS said: "ASICS recognises that climate change issues must be addressed urgently as a common problem in the world. In 2018, we set CO2 emissions reduction targets for 2030 as part of its corporate mission to fulfil its social responsibility and help improve conditions for communities around the world.
"One of the concrete measures which we set to achieve the targets is replacing polyester materials in shoe uppers and sportswear products with 100% recycled polyester.
"ASICS will promote ARWPJ to continue to contribute to the success of the Games and to reducing environmental impacts."