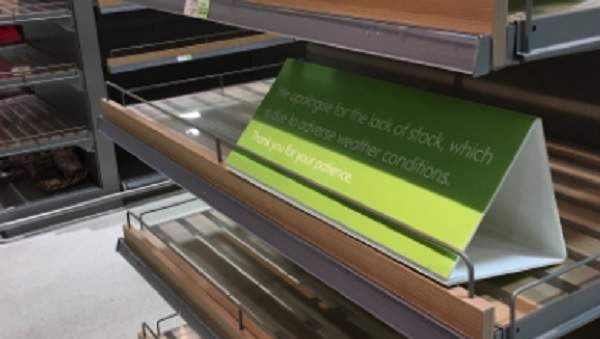 Panicked shoppers emptied supermarket shelves as a Siberian blast, dubbed the Beast from the East, hit the UK, bringing snow and freezing temperatures.
Customers cleared supermarket shelves across the UK in attempt to stock up on supplies ahead of snowstorms after temperatures plunged below freezing.
According to The Met Office, temperatures in London hit -5C overnight and -8.4C in parts of Scotland, making some parts of the UK colder than the Arctic.
Bread and milk were highly sought after by panicked shoppers looking to stock up on the basics, with customers queuing for over an hour to pay for their shopping.
Panicked shoppers created chaotic scenes by barging past each other at Tesco Extra branch in Gilingham, Kent, as they tried to get their hands on the essentials. Similar scenes have been reported in Asda in Sittingbourne and Waitrose in Guernsey, with customers emptying the stores of milk and bread.
Lidl in Hawkinge also suffered from increased demand for milk and bread. In Dublin, supermarkets ran out of bread after people rushed to supermarkets to stock up in fear of the cold weather ahead.
Shoppers turned to Twitter to share images of empty shelves in their local supermarkets, with many users confused by the rush, claiming they had not seen the snow in their parts of the country.
A picture of Sainsbury's store at the Park Farm Retail Park in Folkestone uploaded to Facebook showed rows of empty shelves in bread aisle, and an image of Haven Drive store uploaded by a customer showed shelves looking even emptier.
Sainsbury's confirmed its stock of bread ran out just before the store closed, but stocks were replenished this morning.
Many Twitter users were surprised with the panic and overreaction to the snow, claiming it made the UK a 'laughing stock', and others ridiculed the panic shopping.
One user said: 'Doomsday approaches. It will be cold and it might snow for the day… the end".
Others were mocking the panicked shoppers by offering to sell them bread for $50 'on offer' or single slices for $10.
Weather warnings were in place across the UK and Ireland on Tuesday morning with the Met Office predicting frequent snow showers.
London and South East are currently under an amber weather warning with freezing temperatures and snow expected throughout the day.