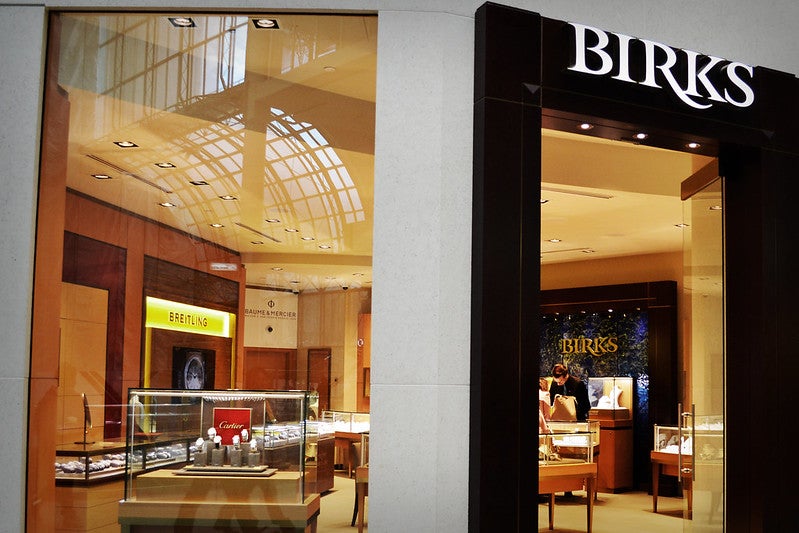 Canadian jewellery retailer Birks Group has recorded total net sales of C$80.0m ($59.5m) for the first half (H1) of fiscal 2023 (FY23), down 5.4% from the same period of the prior fiscal year (FY22).
In the 26 weeks to 24 September, the company's comparable store sales grew by 8.2% year-over-year (YoY).
Birks Group registered a gross profit of C$33.9m in H1 2023, down by 2.9% from the prior-year period, while its gross margin percentage increased by 110 basis points (bps).
The company attributed the declines in its sales and gross profit in part to its investment in a joint venture with FWI to form RMBG Retail Vancouver (RMBG).
Its H1 earnings before interest, tax, depreciation and amortisation (EBITDA) decreased by C$3.1m to C$2.9m, against C$6.0m in H1 2022.
In addition, Birks Group posted a C$0.7m operating loss for H1 2023, compared with an operating income of C$2.7m a year earlier.
Birks Group president and CEO Jean-Christophe Bédos said: "We are pleased with our performance in the first half of fiscal 2023 when we consider comparable store sales growth of 8.2% and a continued improvement in our gross margins, which speaks to the strength of our product offerings, both in terms of our Birks products and in terms of our third party branded watches and jewellery, as well as to the loyalty of our customer base.
"These results were achieved despite uncertain macroeconomic conditions. It is thanks to our team's continuous dedication to our customers that we were able to achieve these results.
"I believe that our company is in a strong position to achieve its long-term strategic objectives as we continue to run our business in an agile manner in the near-term, with a clear view and focus on long-term growth."
Birks Group currently operates 23 Maison Birks stores across Canada, as well as one store each under the Brinkhaus, Graff and Patek Philippe banners.