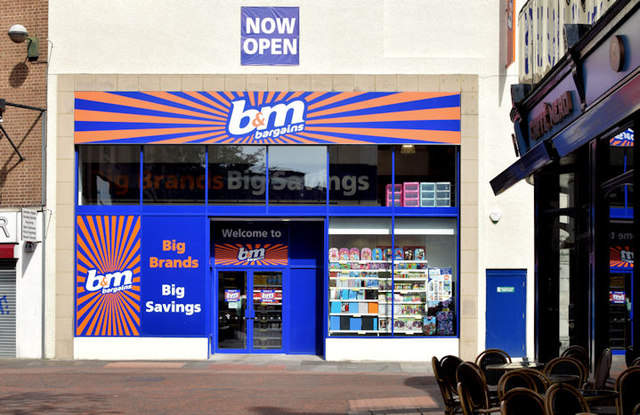 One of the UK's largest discount retailers, B&M, has been fined £480,000 for repeatedly selling knives to under 18s.
B&M has admitted to Barkingside Magistrates' Court that staff in two east London stores have sold knives to four teenagers as young as 14.
The retailer, whose turnover was just over £2.6bn in March this year, was caught after police and trading standards officials sent four children to the Barking and Chadwell Heath stores, where they were able to purchase blades, including a large carving knife.
On 19 September, a 15-year-old boy and 14-year-old girl were able to buy a set of four 'very sharply pointed' knives, at its Goodmayes Retail Park store in Redbridge.
Just two days later at its Vicarage Fields store in Barking, a 16-year-old boy bought a three-piece knife set. At the same store on 19 January, a boy aged 14 successfully purchased three knives.
District Judge Gary Lucie said: "Knife crime is at record levels across the country, particularly in London"
"Young people themselves are particularly vulnerable and should not have access to knives from shops, not just for the protection and safety of society, but for their own."
Judge Lucie believes the offences were not 'deliberate' but 'concerning' as B&M did not implement other systems to prevent the sale of knives to teenagers in 'high-risk areas'. He suggested B&M could put knives in cupboards 'as it does with perfume'.
He said: "In my view, the appropriate starting point for each offence, considering the very large size of the organisation, top end of medium culpability, high risk of harm and so as to ensure that it fulfils the objectives of sentencing is £300,000."
While sentencing, the court took into account the retailers previous conviction in relation to selling a knife in 2008, a formal caution for selling one in April 2016, and the fact that they were not isolated incidents.
The court fined B&M £200,000 for the incident from 19 September at Goodmayes store.
Judge Lucie said: "For the incident on September 21 at Vicarage Fields, £220,000 to reflect that this was committed only two days after the offence at Goodmayes and B&M should have been acutely alert to the issue but also reflecting that B&M had little chance to change systematic procedures during that time."
Meanwhile, the retailer was fined £300,000 for the incident from 18 January at the Vicarage Fields store.
Initially, the Barkingside Magistrates' Court fined B&M £720,000. However, this fine was reduced to £480,000 after B&M entered guilty pleas at the very first opportunity.
The retailer has 28 days to pay the fine, plus £12,428 court costs and a £170 victim surcharge.
Retailers can face unlimited fines for selling knives to youngsters, and up until now, the largest fine for selling knives to under 18s was £20,000 issued to Decathlon for selling a blade to a teenager in Wandsworth.
The B&M's fine comes just months after the retailer was accused of promoting excessive drinking after running an advert for a glass that can hold a full bottle of prosecco.
The Advertising Standards Authority banned the advert saying it 'implied it was acceptable for one person to consume an entire bottle of prosecco in one sitting'.