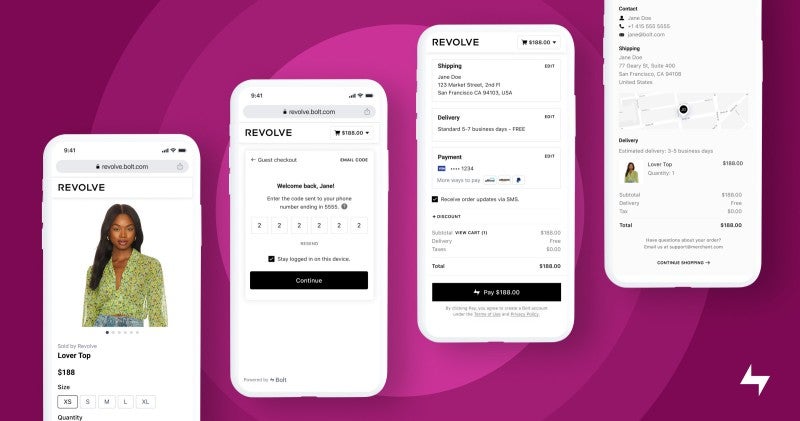 US-based checkout technology company Bolt has launched a checkout solution to streamline the purchasing process for both online and offline customers.
The Checkout Links solution is designed to allow retailers to complete purchases through their own digital channels, including emails, blog posts and chat.
Customers can also use the solution offline by scanning a QR code to purchase items in physical formats such as brick-and-mortar shops, interactive signs, trade shows and events.
In addition, when the desired size of an item runs out of stock in-store, customers can scan a QR code on the item's tag and complete their purchase online.
Bolt CEO Maju Kuruvilla said: "Revolve has always been a digitally savvy retailer putting its customers at the heart of the brand.
"We're excited to launch Checkout Links to help REVOLVE strengthen its relationship with its shoppers and drive more revenue in the busy months ahead.
"It's so important for all retailers to maximize conversion in every part of their omnichannel strategy."
Bolt and fashion retailer REVOLVE will debut Checkout Links during the New York fashion week, which will take place from 9 to 11 September.
By scanning a QR code, shoppers will be navigated to a pre-populated, REVOLVE-branded checkout page designed to offer customers a one-click purchase experience.
The partners plan to launch Bolt One-Click Checkout on revolve.com after the fashion week.
Revolve Group co-CEO and co-founder Mike Karanikolas said: "REVOLVE is committed to providing a best-in-class, seamless customer experience that always keeps our brand front and centre.
"We chose Bolt's Checkout Links because it allows us to extend our strong storefront presence with a solution that complements our established brand experience.
"It gives our customers an easy way to purchase items with one click from wherever they choose to engage with REVOLVE, online or offline."