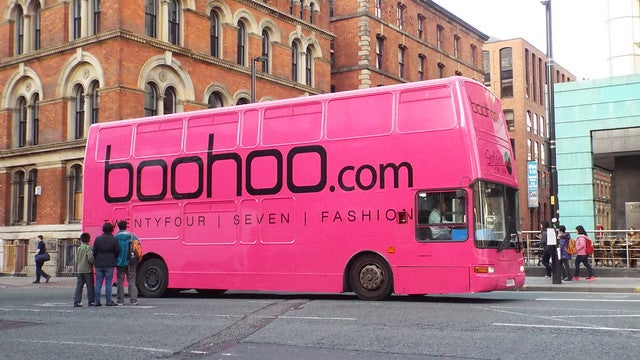 UK-based online clothing retailer Boohoo has seen its full-year group revenue increase 47.8% to £856.9m, in its full-year results.
The figures reveal that the Boohoo group has already outshone ASOS' latest H1 results, with a 16.6% UK revenue growth. PrettyLittleThing has been a big hitter for the group. Revenue grew 106.6% to £374.4m, just £60.2m behind boohoo.com, and is predicted to surpass boohoo in UK market share this year.
Group operating profit grew 37.5% in the full year results, while boohoo.com revenue saw a 16.2% increase.
Boohoo CEO John Lyttle said: "This has confirmed my belief and optimism that the group's investments into its brands and infrastructure have allowed it to develop a scalable multi-brand platform that is well-positioned to disrupt, gain market share and capitalise on what is a truly global opportunity."
At the end of March, the group acquired online retail store MissPap, offering another way of driving strong results. The completion of the distribution centre in Burnley and relocating PrettyLittleThing's distribution centre to a larger site in Sheffield will enable the retailer to increase capacity as its customers base continues to grow.
Analysts predict increased customer demand
GlobalData retail analyst Emily Salter said: "The impressive performance of PrettyLittleThing, in particular, is due to its emphasis on trend-led items and newness, while the retailer also acknowledged the success of its 'shape' ranges  – Tall, Petite, Shape and Plus. Although many of its competitors offer niche ranges, including ASOS and Missguided, PrettyLittleThing has embraced the diversity and body positivity movement, for example in its popular collaboration with Ashley Graham, which has resonated well with its customers.
"For the acquisition to be successful, MissPap needs to offer a unique proposition with clear points of differentiation due to the highly competitive nature of the young fashion market. As the Boohoo group continues to grow apace, operational improvements to cope with increased customer demand are vital to long-term success."