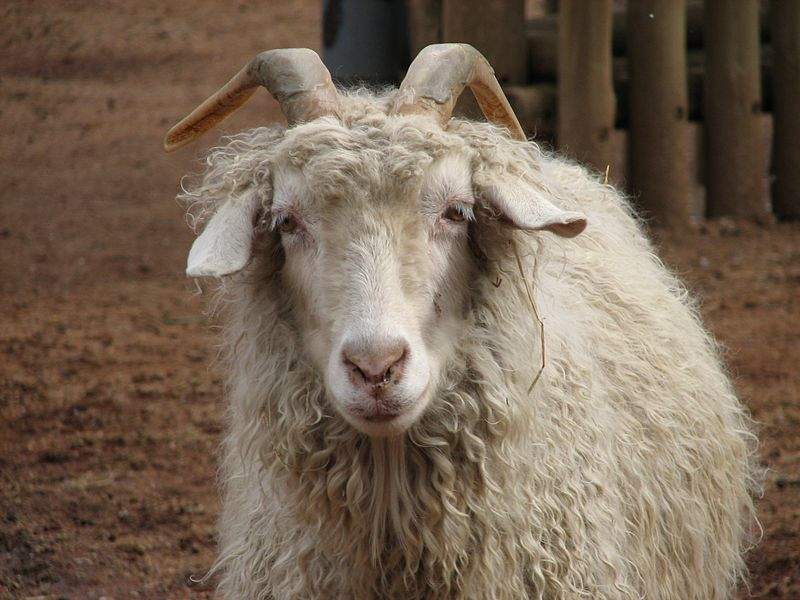 Some of the biggest fashion labels have pledged to stop selling clothes containing mohair after allegations of animal cruelty at goat farms in South Africa.
South Africa, which has had a mohair industry for 180 years, produces most of the world's mohair, which is popular  for its silky softness and is used to make sweaters, coats and accessories.
An undercover investigation by animal rights charity Peta has shown that goats suffer 'painful, horrifying deaths' and that farm workers, who were paid by volume instead of by the hour, 'worked quickly and carelessly' and were filmed as they handled the goats roughly by their legs, tails and horns, causing them to 'cry out in pain'.
The head of South Africa's mohair industry has expressed his shock at the Peta findings, which he called 'a gross misrepresentation of the mohair industry' and has  ordered an inquiry into the farms that were featured in the graphic video.
Mohair South Africa general manager Deon Saayman said: "Some isolated issues have been raised and we have launched an investigation to address these issues directly and swiftly."
Saayman said that in the meantime all mohair products from farms shown in Peta's video, had been suspended from trading.
Anthropologie and Express are among the latest brands to stop using mohair.
Peta said in a statement: "Anthropologie received more than 18,000 letters from Peta supporters before it announced that '[due] to the potential for the mistreatment of animals', it won't buy or produce mohair products as of March 2019.
Anthropologie and Express join the Arcadia Group, H&M Group, Inditex apparel brands, and Gap, which were among the first brands to pledge to stop using mohair. It is unclear whether any of these retailers sourced mohair from the farms investigated by Peta.
According to H&M, the supply chain is too 'challenging to control' and they have made a decision to 'ban mohair fibre from our assortment by 2020 at the latest'.
H&M spokesperson Helena Johansson said: "For us, it is of utmost importance that animals are treated well and we have therefore decided to permanently ban mohair. We have been in close dialogue with Peta for several years and fully agree with them on this matter.
"We will now look into what other alternative materials we can offer our customers."
Gap has promised to stop selling mohair products by spring next year, the ban will also apply to the company's brands Athleta, Banana Republic and Old Navy.
Arcadia has said it would no longer place orders for mohair for any of its eight fashion brands, which include Topshop, Topman, Burton, Miss Selfridge and Dorothy Perkins.
Arcadia spokesperson said: "Arcadia was concerned to learn of video footage obtained by Peta showing poor treatment of Angora goats to obtain mohair fibre."
Inditex, the Spanish clothing company that owns Zara, said it had 'committed to stopping sourcing any new goods containing mohair' also by 2020.
Last year, Peta released a film showing factory workers in China hand-plucking squealing rabbits, which caused exports of the fur to fall by 85% and many fashion brands, including Armani, Versace, Gucci and Michael Kors decided to go 'fur-free'.