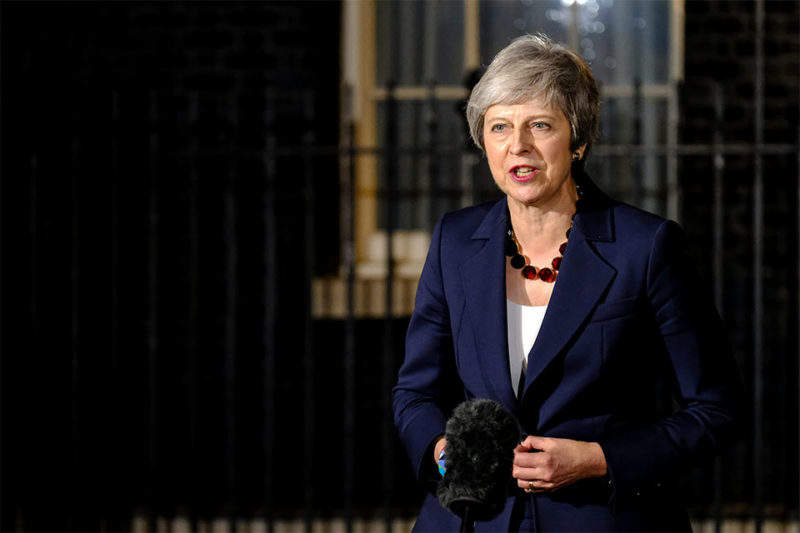 The British Retail Consortium (BRC) has issued a statement welcoming the latest Brexit developments after Theresa May announced the cabinet backed a draft withdrawal agreement between the UK and the EU.
A spokesperson for BRC said: "The latest Brexit developments are a welcome step towards a deal as retailers need certainty as we approach the UK's departure date."
"We must avoid the cliff edge of no deal in March 2019 – this could lead to shoppers facing higher prices and reduced availability of products"
In her statement outside Downing Street, Prime Minister Theresa May said the agreement was 'the result of thousands of hours of hard negotiation with EU officials'.
According to May, it was a 'decisive step' in the progress of Brexit and would allow the agreement to be finalised.
She added: "This deal, which delivers on the vote of the referendum, which brings back control of our money, laws and borders, ends free movement, protects jobs, security and our Union; or leave with no deal, or no Brexit at all."
Alongside the 585-page long withdrawal agreement, the government also published a five-page 'political declaration' setting out what the future relations between UK and EU will look like.
It envisions 'a free trade area and deep co-operation on goods, with zero tariffs and quotas'.
Downing Street summarised the agreement on goods as 'A free trade area and deep co-operation on goods, with zero tariffs and quotas', and said the agreement would enable the UK 'to strike trade deals around the world'.
An emergency EU summit will be held on 25 November, where EU leaders are expected to sign off on the withdrawal agreement and future relationship declaration.
Speaking to Radio 4's Today programme, Shadow Secretary for Brexit Sir Keir Starmer said: "We're not prepared to accept a vague or blind Brexit; we need to know where we're heading.
"What do we have on the future relationship? We've got seven pages, only three of which are on the economic relationship.
"If you look at those seven pages, it must be the first time in history that what's proposed is a trade agreement that makes it harder to trade, not easier to trade."
As a result of the latest Brexit developments, Brexit secretary Dominic Raab, junior Northern Ireland minister Shailesh Vara, Work and Pensions Secretary Esther McVey, junior Brexit minister Suella Braverman, and parliamentary private secretaries Anne-Marie Trevelyan and Ranil Jayawardena have submitted their resignation to the Prime Minister.
Business leaders' views
CBI director general Carolyn Fairbairn said: "This deal is a compromise, including for business, but it offers that essential transitional period as a step back from the cliff-edge."
"The UK has had many months of discussion and division. A long journey still lies ahead but now is the time for decisions. And the first decision is to avoid no deal."
Institute of Directors director general Stephen Martin said: "We urge all politicians to think long and hard about how they react to this first-stage agreement. Leaving the EU without a deal is a very bad outcome for businesses, workers and consumers, and this is simply an inherent risk that comes with voting down any withdrawal deal."
"Our members will adjust to a new relationship with the EU, but they must be allowed to do this in as smooth and orderly manner as possible."
British Chambers of Commerce director general Adam Marshall said: "Businesses will recognise the huge efforts made by the Prime Minister and across government to reach this milestone."
"After two and half years of uncertainty, this may be the end of the beginning — but not yet the beginning of the end. Our firms need clarity and precision on the specific terms of trade they will face in future, many of which are still to be agreed. The avoidance of sudden or multiple changes to trading conditions is crucial to business investment and confidence."
What 'no Brexit' means for the retail industry?
Last Month, credit ratings agency Moody's warned that Brexit could have an unfavourable effect on UK retailers' profits.
According to Moody's latest retail industry forecast for the next 12 to 18 months, the agency expects Brexit could cut 1.2% of earnings growth, and UK retailers could end up recording an average EBITDA of 3% compared to the 4.2% average for retailers based in Europe.
A spokesperson for Moody's said: "A disorderly exit from the EU would be negative for UK retailers on a number of levels, including currency devaluation, delays at ports and the resultant hit to economic growth and consumer confidence."
"For now, however, our base case assumes slightly improving economic conditions compared to 2018."
Meanwhile, Next chief executive Lord Wolfson has issued its own warning about the dangers of no deal Brexit. According to Wolfson, no deal Brexit would result in chaotic gridlock at UK ports, posing a serious risk to Next.
Wolfson said: "The ports that will have the biggest problems will be the ones having more EU goods, so basically Dover."
"The more information that can be provided by the Government on how they plan to manage and mitigate the increased workload would be helpful."
Wolfson also warned that if the UK leaves the European Union without free-trade agreements in place, the cost of imported good could increase by around £20m, driving up prices.