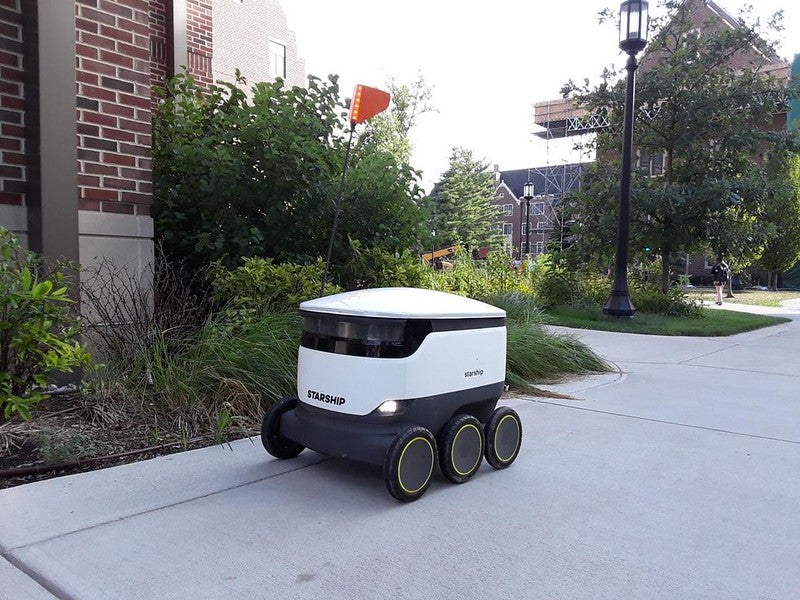 British retailer Co-op and autonomous delivery vehicle manufacturer Starship Technologies have extended their autonomous robot delivery service in the UK.
By partnering with North Northamptonshire Council, the companies will roll out autonomous grocery delivery across Wellingborough, Higham Ferrers and Rushden.
Starting 14 July, up to 45,000 residents across 33,000 households in Wellingborough, Rushden and Higham Ferrers will have access to on-demand grocery delivery from four Co-op stores.
Customers can choose grocery items through the Starship food delivery app, which is available for download on iOS and Android.
Shoppers can then schedule a delivery time and location as well as track orders in real time through an interactive map.
Co-op e-commerce director Chris Conway said: "We are delighted to be able to extend the service in the area, as a convenience retailer, the ability to come into stores will always be important to customers, but we also know that shoppers want flexible and convenient options online, and so we are focused on providing what our customers want and need, however and wherever they choose to shop with us."
Co-op and Starship started commercial deliveries in 2018, and the robots have already rolled out across local communities in Milton Keynes and Cambourne, Cambridgeshire.
Powered by zero-carbon electricity, Starship's robots combine sensors, artificial intelligence and machine learning to travel on pavements, while a computer vision-based navigation system allows them to map their environment.
Since their launch, the robots have travelled more than four million miles and completed more than 3.5 million deliveries.
An editor's note added that with the latest expansion, Co-op groceries are now available for delivery locally from 15 Co-op stores in the Northamptonshire postal area.
Starship Technologies UK operation manager Andrew Curtis said: "Our robots offer an environmentally friendly and convenient way of helping people with their 'top up' shopping and we're confident the service will be similarly well received in North Northants."
In May, Starship Technologies partnered with Cambridgeshire County Council and Co-op to trial food delivery robots in Cambourne, UK.