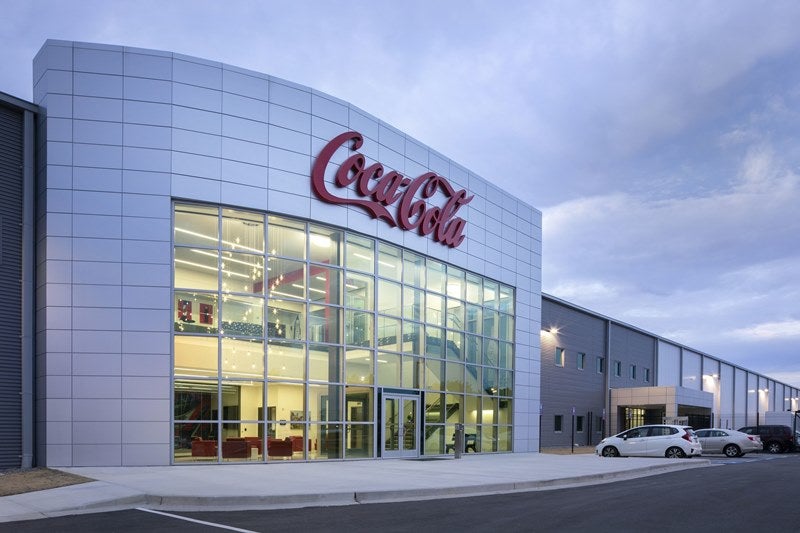 US firm Coca-Cola Bottling Company United has unveiled its new $86m sales centre in Union City, Georgia.
The new 456,000ft location features a sales and distribution centre, warehouse, fleet shop, administrative offices and meeting space.
Construction on the facility, which is one of the largest investments in a sales centre in the US Coca-Cola System, started in early 2018 and was completed by the end of 2019.
Coca-Cola Bottling Company United president and CEO John Sherman said: "When we acquired the Atlanta territory in 2017, we made a commitment to being world-class in the way we serve this market, our customers and our communities. After all, it is the home of the worldwide Coca-Cola System.
"This facility demonstrates, through its state-of-the-art technology and aesthetically pleasing environment, our commitment to honour our associates, customers and the communities where we operate and serve every day."
The South Metro Sales Centre will be capable of loading approximately 36 million cases of beverages annually.
It will serve over 10,000 customers throughout Atlanta's metro counties, including Carroll, Clayton, Douglas, Fayette, Newton, Rockdale, and Walton.
The facility employs approximately 750 people.
Coca-Cola United has invested more than $145m in Georgia over the last five years, with around 90% concentrated in the Atlanta metro area.
Coca-Cola United is also constructing a sales and distribution centre in Tifton, south Georgia. This facility has seen an investment of $60m and is planned to open by the end of 2021.