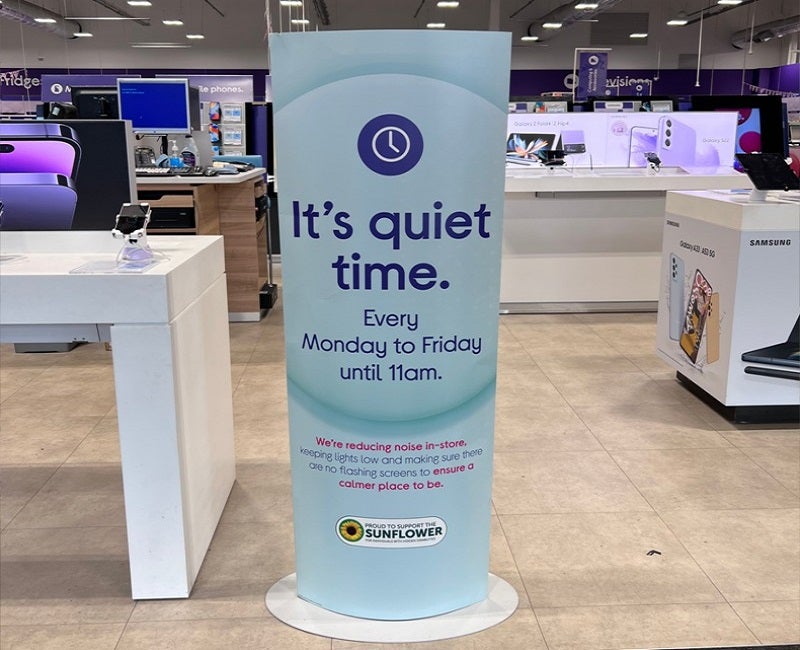 British electrical retailer Currys has launched Quiet Hour, a dedicated time inside its stores intended for neurodiverse customers.
Quiet Hour is designed to enhance the shopping experience for customers who are more sensitive to in-store sounds, lighting and sensations.
The programme aims to benefit shoppers with conditions such as attention deficit hyperactive disorder (ADHD), dyspraxia, dyslexia and autism.
Until 11am every Monday to Friday, Currys will aim to reduce noise levels and avoid multiple sound sources in its stores.
The retailer will also keep lights low and switch off all TVs and screens during these hours.
In addition, Currys will offer a sensory map to identify areas that may be triggering environments, while customers with non-visible disabilities will be given access to Sunflower lanyards.
The Sunflower lanyard is for people with hidden disabilities to indicate that they may need extra support.
Currys chief people, comms and sustainability officer Paula Coughlan said: "I am really proud of this initiative, which shows our commitment to making Currys a place where everyone feels comfortable to shop.
"It's a really big step for a retailer of our size and scale, and really demonstrates our commitment to diversity and inclusion.
"The feedback from the trial was overwhelmingly positive, and I am delighted that we are becoming a more inclusive retailer."
Currys launched Quiet Hour following a successful trial across the North-West of England and Wales.
The retailer is working with disability charities We are Purple and Hidden Disabilities Sunflower to support the initiative.
Hidden Disabilities Sunflower CEO Paul White said: "Currys is the biggest and first electrical retailer to join the Hidden Disabilities Sunflower network.
"Their work to incorporate the Sunflower into the Quiet Hours shopping experience is of huge benefit to not only neurodiverse customers but also to people with other disabilities."