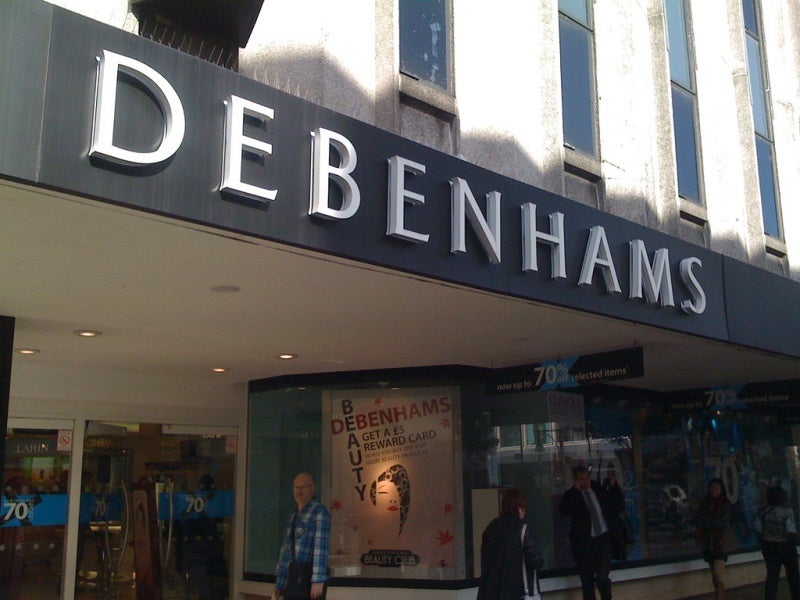 UK department store chain Debenhams has fallen into administration after it rejected UK sportswear retailer Sports Direct's proposal to underwrite a £150m equity issuance by Debenhams to its existing shareholders.
The ailing retailer has now been taken over by its lenders, removing shareholder, including Sports Direct CEO Mike Ashley, who had a £150m stake in the company.
Debenhams executives Chad Griffin, Simon Kirkhope and Andrew Johnson have been appointed as joint administrators of the company, according to a letter addressed to shareholders posted on the FTI consulting website.
In the letter, Griffin states that "the Group has been sold for a price,' which they believe to be the 'best price reasonably obtainable at the time of sale.' He also explained that the 'transaction included provisions to ensure that the Group is immediately marketed for onward sale.'
The Debenhams administration also follows confirmation from Sports Direct that it was in talks with the Debenhams board to make the offer. Debenhams also secured £200m in funds from its existing lenders on 29 March.
In a previous statement to the London Stock Exchange (LSE), Debenhams said: "The Board confirms that it received a revised, highly-conditional, proposal from SDI in the early hours of 9 April, which indicated a willingness of Sports Direct to underwrite an equity issue of £200m.
"The company's lenders have confirmed to the company that the proposal, on the terms set out, was not sufficient to justify an extension to the 8 April deadline."
"Following weeks of bickering with Sports Direct, Debenhams has escaped the hands of Mike Ashley with any plans for a 'House of Debenhams' now firmly up in smoke."
The department store chain also said that it was in discussions with its lenders regarding the availability of the remaining facilities. The facilities were to be available to the group's subsidiaries only if the company transferred ownership of those subsidiaries into a lender-approved entity.
At the time, Sports Direct said that it was "disappointed with Debenhams' response" as its offer, which would have formed part of its comprehensive refinancing, "should have been deliverable with the co-operation of Debenhams and its existing lenders."
Analysts comment on Debenhams administration
GlobalData senior retail analyst Sofie Willmott said: "The cash injection from the new owners will not be enough to turn around the failing department store's fortunes. Although Sergio Bucher's Redesigned strategy, announced almost two years ago, addresses the retailer's problem areas, it has not been rolled out fast enough and as a result most consumers have seen little change at Debenhams, other than a minor adjustment to its logo.
"Following weeks of bickering with Sports Direct, Debenhams has escaped the hands of Mike Ashley with any plans for a 'House of Debenhams' now firmly up in smoke. Given the changes to House of Fraser since its acquisition by Sports Direct in August 2018 with stores looking empty of both stock and shoppers, Debenhams has indeed been rescued by lenders – though store closures are inevitable. The business will still require significant investment to stand a chance of regaining consumer interest.
"At the time of announcing its H1 results in March, Debenhams expected to shutter 50 stores in the medium term and it is likely that the new owners will accelerate this plan. With the majority of Debenhams' sales generated from its clothing division, its competitors must be ready to take advantage and swoop in to capture the physical spend that Debenhams will miss out on."