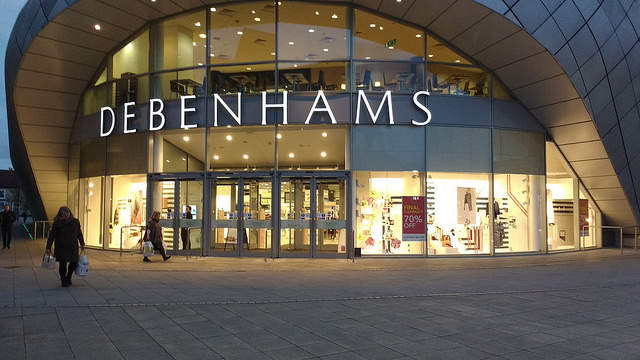 Following a tough trading period, UK department store Debenhams could close up to one-third of its stores as part of its restructuring plan.
Sources familiar with the matter have told City AM that department store's new finance chief Rachel Osborne is considering closing up to a third of its 166 stores.
However, the exact number of store closures depends on the conversations between Debenhams and landlords.
The department store is reportedly looking to save £30m by cutting the dividends, and £70m by reducing capital expenditure.
Debenhams is expected to announce the details of its restructuring plan alongside the full-year results on Thursday.
So far, Debenhams has issued three profit warnings this year, blaming 'increased competitor discounting and weakness in key markets' for the fall in profits.
Kelkoo CEO Richard Stables said: "Debenhams' woes are another indication of how high street retailers are struggling to survive in an increasingly competitive retail landscape. Maintaining a portfolio of dozens of under-performing or loss-making stores is simply no longer a viable option as consumers increasingly value customer experience and better value."
"However, shareholders will be buoyed by the news of strong online growth suggesting that the retailer faces a brighter future if this continues. Retailers have to invest in a coherent online offering and harness the opportunity of omnichannel marketing in order to thrive."
In a statement issued last month to investors, Debenhams has said that full-year profit would be around £35m, down from £95.2m the previous year.
Debenhams CEO Sergio Bucher said: "The market environment remains challenging and underlying trends deteriorated through the summer months. Nevertheless the product and format improvements we have tested are gaining traction and we are ready to scale up some of our strategic activity ahead of peak.
"Having put in place a leaner operational structure and strong leadership team, and taken action to strengthen our financial position, we are well equipped to navigate these market conditions and take advantage of any trading opportunities that emerge."
Debenhams chairman Sir Ian Cheshire said: "As we stated in June, the board continues to work with its advisers on longer-term options, which include strengthening our balance sheet and reviewing non-core assets. This activity is in order to maximise value for shareholders and protect other stakeholders, including our employees."
Debenhams is currently in the middle of trying to sell its Danish department store Magasin du Nord, which could bring the retailer in around £200m.