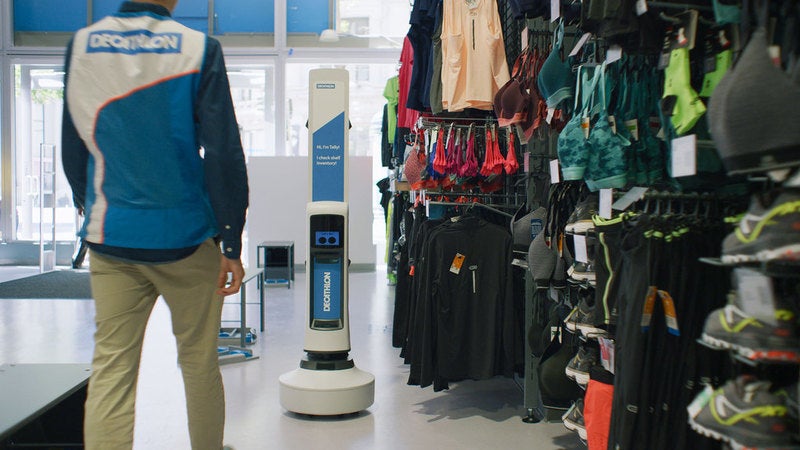 Sporting goods retailer Decathlon USA has deployed a fully-autonomous inventory robot, developed by Simbe Robotics, at its recently opened store in San Francisco, California.
Called Tally, the robot is equipped with RFID capabilities and computer vision technology to capture, report and assess the quantity and location of store inventory, a task generally carried out by store associates.
Decathlon chief technology officer Tony Leon said: "When launching our first store in San Francisco, a city at the forefront of innovation, we invested in ground-breaking technology that could help us rethink the brick-and-mortar retail experience.
"RFID tagging was pivotal in helping us better manage our inventory."
"RFID tagging was pivotal in helping us better manage our inventory. As we look to the next chapter of retail innovation, Tally enables our team to focus on cultivating unique experiences and sharing advice tailored to each customer's athletic passions."
The deployment of Tally will enable Decathlon's store members to carry out inventory audits precisely.
Additionally, the inventory robot will issue alerts for out of stock items and assist in locating misplaced products.
The deployment of Tally does not require any infrastructure adjustments to the store and will operate safely during normal store hours using a suite of sensors.
Simbe Robotics CEO Brad Bogolea said: "Decathlon's uniquely designed San Francisco flagship store is an environment that fosters significant interaction between customers, product, and store associates; with that comes unique merchandising challenges.
"Decathlon has deployed Tally in a uniquely customer-centric environment, leveraging Tally's RFID capabilities to capture real-time insight into product flow, pricing, and availability by providing precise inventory audits and cycle counts, in addition to sharing the location of each product in store."
Currently, Decathlon operates more than 1,414 stores across 45 countries. The San Francisco store, which opened its doors in April 2018, is its first in the US.