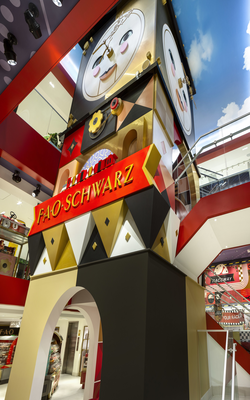 US-based toy brand FAO Schwarz, a subsidiary of ThreeSixty Group, has partnered with European toy retailer Prénatal Retail to open its first flagship store in Italy.
The companies will open a 6,000ft2 store in a historic landmark in Milan this year.
The store will aim to offer a full FAO Schwarz collection of toys and consumer-engaging retail experiences.
The new location will be inspired by FAO Schwarz's flagship store at 30 Rockefeller Plaza, New York, and will feature in-store product demonstrations.
ThreeSixty Group international wholesale and corporate strategy retail president Jan-Eric Kloth said: "We couldn't be more pleased to partner with Prénatal Retail Group to introduce the FAO Schwarz brand into Italy.
"Their retail know-how and knowledge of the European market and our expertise on in-store and online experiences make this a great match.
"We look forward to offering customers in Italy the same level of engagement that we have in New York while also surprising them with experiences and brands unique to the Milan store."
ThreeSixty and Prénatal Retail are also collaborating with third-party brands to introduce more experiences for customers in the coming months.
The partnership aims to expand FAO Schwarz's footprint in other countries, including Spain, France, Portugal and Benelux.
Prénatal Retail Group CEO Amedeo Giustini said: "We look forward to welcoming FAO Schwarz into our brand portfolio and to sharing with customers exclusive experiences and a brand with over 160 years of history."