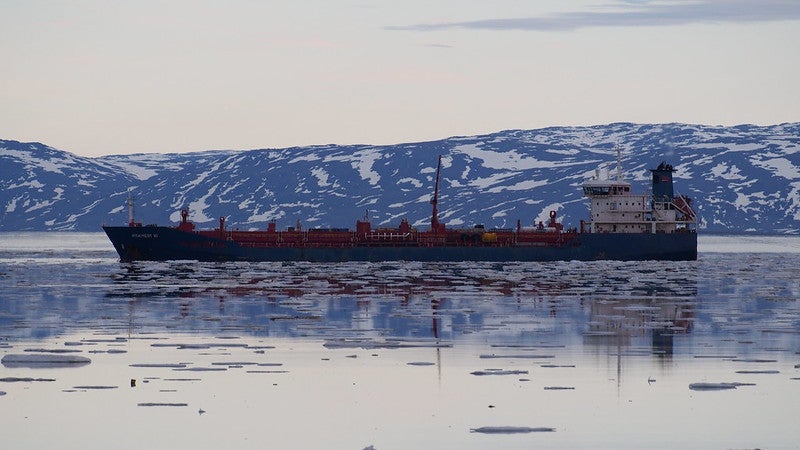 Companies in the fashion industry are being urged to stop shipping their products through the Arctic Ocean due to its impact on climate change according to data analytics and consulting company GlobalData.
Shipping through the Arctic is a quicker and easier way for supply chains to transport goods, but fashion companies are joining the Arctic Shipping Corporate Pledge to not intentionally ship products on vessels through any Arctic sea route.
Launched by sportswear giant Nike in partnership with oceans and waterways advocate Ocean Conservancy, fashion firms including Bestseller, Columbia, Gap, H&M Group, Kering, Li & Fung and PVH Corp have committed to the pledge. Ocean carriers CMA CGM, Evergreen, Hapag-Lloyd and Mediterranean Shipping Company have also joined the pledge.
Ocean Conservancy explains that although increasing the number of ships in Arctic waters could bring economic benefits, it would risk the region's marine ecosystem through increasing pollution, ship strikes on marine mammals, the introduction of invasive species and oil spills.
GlobalData apparel correspondent Beth Wright said: "Passages such as the Northern Sea Route, for example, could significantly reduce the time goods spend on a ship from Asia to Europe, rivalling the established journey through the Suez Canal by enabling product to reach the consumer more quickly. While northern shipping lanes are not yet economically viable, the potential opening up of such passages could increase the devastating impact climate change is already having on this unique and remote environment.
"As climate change continues its assault on the planet, the efforts of these companies to safeguard the Arctic and its vulnerable ecosystems can only be applauded – particularly as trans-Arctic shipping could speed up the supply chain if the routes continue to open up as industry fears they may."
Nike executive vice president, chief administrative officer and general counsel Hilary Krane said: "We've made a commitment to not intentionally allow our products to be shipped on vessels via any Arctic sea route. And, we're partnering with Ocean Conservancy, a leading advocate for the oceans and waterways, to encourage all companies and industries to make the same commitment through the Arctic Shipping Corporate Pledge."