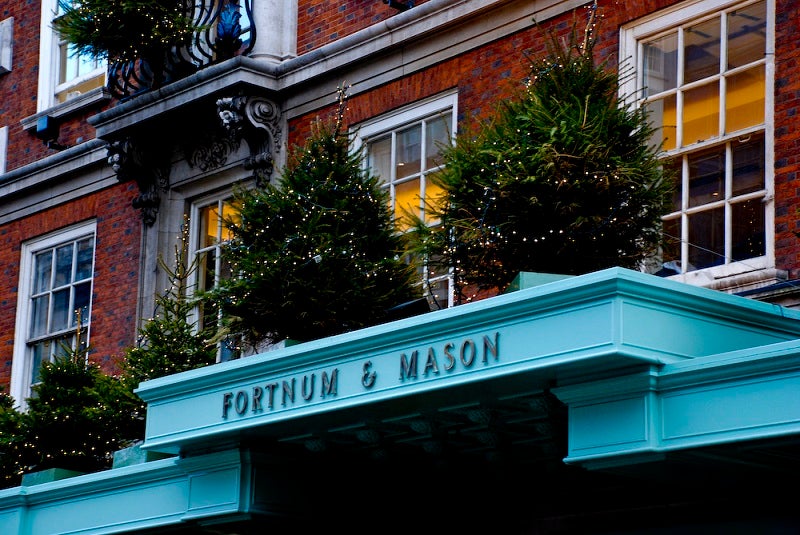 UK department store Fortnum & Mason has reported a sales rise of 12% to £138m and a 26% profit rise for the 12 months to 14 July 2019.
Like-for-like sales at the flagship store in Piccadilly, London recorded an increase of 6%. Online sales also increased by 13%, and sales at the retailer's St Pancras International operation recorded a rise of 15%.
Fortnum & Mason CEO Ewan Venters said: "We are very pleased to report another year of strong growth across our business, particularly within the context of the significant challenges facing the retail sector. Our reputation for delighting our customers around the world with the finest products and exceptional service drives us all to keep innovating and searching for the best partners and suppliers."
Fortnum & Mason chair Kate Hobhouse said: "Ours is a business that celebrates the very best, be it food, drink, joy-giving gifts or indeed experiences. We are a traditional British business with a truly global outlook, and I am proud that people's appetite for our brand is increasing around the world.
"We continue to serve our customers both at home and abroad, in person and across our digital platforms, and I am excited to see how the business can build on its recent success in the year ahead."
Fortnum & Mason defies retail odds amid Hong Kong protests
Sales in Hong Kong and Japan increased by 16% and 28%, respectively. This follows Fortnum's announcement, in April 2019, of the opening of a new flagship in Hong Kong – its first standalone store in Asia.
Venters added: "I am delighted that before Christmas we will be trading from our first standalone store in Asia as we open a shop and restaurant in Hong Kong and we are now looking forward to a busy and successful Christmas. We believe the particular brand of festive cheer that Fortnum's strives to deliver will be a welcome relief in these uncertain times."
GlobalData retail analyst Emily Salter said: ''Fortnum & Mason has delivered another year of strong sales growth, with revenue rising to £138m as its proposition proves to be the right cup of tea for shoppers. Though total revenue was bolstered by the opening of its new Royal Exchange restaurant in November 2018, it is clear that its premium and unique products enhanced by its strong British identity resonate well with domestic shoppers and tourists, even in the tough UK trading environment.
"The retailer reported strong international growth of 16% and 28% in Hong Kong and Japan, respectively and is set to open a new flagship branch in Hong Kong (encompassing a shop and restaurant) as its first standalone location in Asia. Though Fortnum & Mason is smart to reduce its reliance on the UK and capitalise upon international demand for British goods and the brand, it is debatable whether this is a wise move due to the protests and resulting recession that have dented the sales of premium and luxury brands in Hong Kong.
"Travel sites could be a significant channel of growth for Fortnum & Mason with the potential to open more locations, to capitalise upon tourists wishing to purchase last-minute British gifts and souvenirs, as sales at the St Pancras store grew by 15% and its only other UK travel site is Heathrow Terminal 5."
Online sales and premium experience boosts Fortnum's future
Salter continued: "Online revenue growth also outperformed total growth, though it has significantly slowed versus FY2017/18. The retailer's website is inspirational, especially for festive gifting, helping to boost sales, but though click & collect is free this will be inconvenient for the vast majority of shoppers given the limited number of stores, and standard home delivery is £5.95. Fortnum & Mason should reduce this cost and promote its more widely available third-party pickup option more clearly to drive further sales online, especially repeat orders.
"Fortnum & Mason is coming under increased pressure from premium department store competitors as Selfridges and Harrods are investing significantly in their stores. Harrods has restored its Food Halls, and Selfridges has renovated numerous areas of its flagship London location to boost footfall, as well as improving the experiential elements of its store – adding restaurants and a cinema. Fortnum & Mason is able to hold its own against these players, with its mix of traditional and innovative products, as well as its foodservice proposition. But it must ensure that it keeps up with consumer expectations of a premium experience in its flagship Piccadilly store."