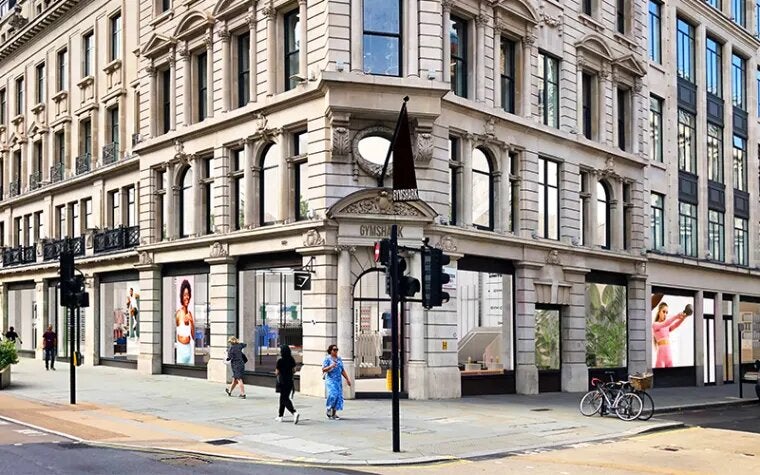 British fitness retailer Gymshark has announced plans to open its first physical flagship store in London on 1 October.
Located at 165 Regent Street, the 18,000ft² store will feature a Sweat Room, which will conduct 30 bookable exercise classes with coaches and personal trainers each week.
These classes will include functional fitness, yoga, strength and high-intensity interval training (HIIT).
Customers will also have access to the company's gender-neutral Locker Room, which features lockers, showers, towels and changing facilities.
In addition, the brick-and-mortar store will house the Pro Bench, a bar offering free 121 sessions of around 25 minutes each led by trained Gymshark Pros.
Gymshark CEO and founder Ben Francis said: "(The store is) going to be incredible, it's going to be experiential, and we want to bring as much of that Gymshark vibe and community in to this place."
Gymshark Regent St will also feature an exclusive Joe & The Juice location, which will serve fresh juices, healthy shakes and protein-heavy sandwiches.
The first floor will feature The Hub, an open plan multi-use space designed for guest speakers, events, athlete meet and greets, seminars and hot desking.
Gymshark said it will host several events at The Hub, while online booking for all workout classes and facilities will start from 19 September.
Gymshark's one-on-one shopping team will also be available at the store to assist customers and offer a more personal shopping experience.
In a statement, the company said: "Our new Regent Street store isn't just about in-real-life (IRL) retail shopping, it's about experiential spaces that bring the conditioning community closer together than ever before – from special events and community hangouts to workout spaces and more."
Based in Solihull, Gymshark manufactures and sells its own range of fitness wear online and via pop-up shops.
The company was valued at more than £1bn ($1.15bn) in 2020.