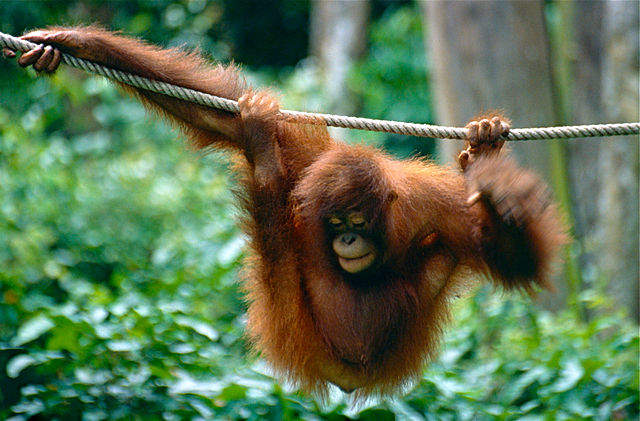 Iceland has become the first British supermarket to pledge to stop using palm oil in own-brand products by the end of 2018.
Palm oil is a cheap and mass-produced ingredient, which is currently found in more than half of all supermarket products, from bread, pastry, biscuits and chocolate to soap and detergent.
The growing palm oil demand, which is predicted to double by 2020, was responsible for the deforestation of about 24 million hectares of Indonesian rainforest between 1990 and 2015.
Iceland managing director Richard Walker said: "Having recently been to Indonesia and seen the environmental devastation caused by expanding palm oil production first hand, I feel passionately about the importance of raising awareness of this issue – and I know many British consumers share my concern and want to have a real choice about what they buy."
The ban currently only applies to Iceland-brand products; other branded products sold by the retailer may still contain palm oil.
Walker said: "Certified sustainable palm oil does not currently limit deforestation and it does not currently limit the growth of palm oil plantations.
"So until such a time as there is genuinely sustainable palm oil that contains zero deforestation, we are saying no to palm oil."
According to Walker, 'there will be an extra cost but we think it's the right thing to do,' but the costs will not be passed on to customers.
Iceland has worked with its suppliers to replace palm oil with substitutes, such as rapeseed and vegetable oils.
Until now, palm oil was present in 130 Iceland products, including 10% of its own brand food.
According to Greenpeace UK, a growing number of consumer companies are working to find a way to stop their involvement in deforestation by 2020.
Greenpeace UK executive director John Sauven said: "Iceland has concluded that removing palm oil is the only way it can offer its customers a guarantee that its products do not contain palm oil from forest destruction. This decision is a direct response to the palm oil industry's failure to clean up its act.
"As global temperatures rise from burning forests, and populations of endangered species continue to dwindle, companies using agricultural commodities like palm oil will come under increasing pressure to clean up their supply chains."
The orangutan population is particularly affected by the production of palm oil. As a result of deforestation the species more than halved between 1999 and 2015, leaving between 70,000 and 100,000 remaining and a new species which was discovered in 2017 is already endangered.
EU labelling law, changed in 2014, says that products must now state specifically if they contain palm oil.
The bank of England considered using palm oil in the production of future banknotes, following complains over the use of animal-derived tallow in its polymer notes, however, it ruled it out after suppliers were 'unable to commit to sourcing the highest level of sustainable palm oil'.